Lack of substitutions cripples Panther offense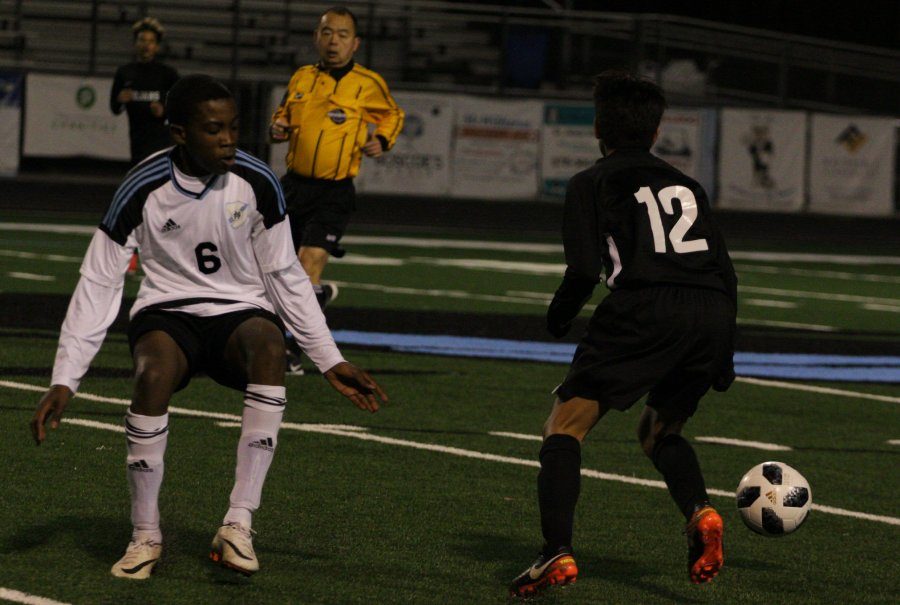 After 2017's soccer season concluded with a 5-3 loss to Clarkston in the second round of the playoffs, the Panthers' varsity boys lost seniors Mick Pattison and Patrick Bonilla to graduation.  A few additional changes have the team starting this year with a completely redesigned roster.
The roster changes didn't cause Monday's 3-2 loss to Carrollton.  Rather, fatigue from a lack of substitutions in the second half spoiled the chances of a win.
"[We did] not [have] smart defending," coach Mike Hanie said.
The Mill handled the pressure from the majority of the game and played higher up the field. Toward the end, the pressure mounted, causing the Panther defense to fail.
The team started off strong in the first half. At 8:48, the Mill had good control of the ball, with freshman Kenan Godfrey scoring, assisted by senior Sam Pompeo.
"We were pushing up to try to score another goal," junior Johnathan Ulversoy said. "They kept kicking long balls and we were not playing that well so we had dropped off further."
In the middle of second half, Ulversoy scored the second goal at 28:28 putting Starr's Mill up 2-0. The game looked well in-hand until fatigue set in. Carrollton substituted throughout the entire game, helping players conserve energy for late in the match. The strategy worked as the Panther defense lost momentum, conceding three goals in the last ten minutes. Carrollton senior Alex Calix started the comeback with a goal at 7:17. Junior Marvin Gomez scored the last two at 3:48 and 1:01.
"The mid-field did not step up like they needed to for the last goal, defensively," Godfrey said. "[We did not work] together like we should [have]."
Starr's Mill boys' soccer plays their second game of the season as part of a varsity double-header on Feb. 9 beginning with the varsity girls at 5:55 p.m.  The boys' game will follow at 7:55 p.m.