Elliott set to create own legacy driving No. 9
Driving a 3,000 Ib. vehicle at 200+ mph is difficult enough for a NASCAR driver, but being in the shadow of a Hall of Fame father is nearly impossible. Fortunately, for Chase Elliott, he feels right at home driving the No. 9 his father Bill made famous.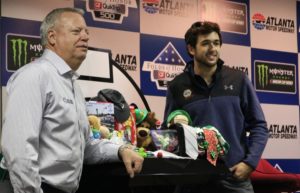 "I have always raced that number and do have a lot of history with it myself," Elliott said. "I think it fits and it looks right and I walk up to the car and I am like, 'Man, that's my car'."
As one of the youngest drivers in NASCAR at the age of 22, Elliott enters his first big season with his father's number along with a legacy to uphold.
Elliott prepared for his upcoming season with a father-son tradition at the Atlanta Motor Speedway on Feb. 13. Fans presented their lucky charms to Elliott hoping some of their luck will rub off on the driver from Dawsonville, Ga., during his 2018 racing season.
"He ran second eight times and I ran seven [last year]," Elliott said. "Maybe we can beat him buy one and say that I can beat him at something."
Even though the No. 9 car is Elliott's family roots, he prepares to make his own name with the car. He stated that the 9 car meant a great deal to him since it was the car he has been running for years. He ran the number in the Xfinity Series for JR Motorsports in 2014, when he won the Xfinity Series championship, and again in 2015 before moving to Cup racing full time.
As the driver of the No. 9, Elliott is confident entering his third year with the Hendrick Motorsports.
"I have always raced that number and do have a lot of history with it myself," Elliott said. "[My car] looks right. I think a lot of people can agree with that and I think it looks good."