Field trip creates new opportunities for student journalists
On Feb. 23-25, six members of The Prowler from Starr's Mill High School will experience sports and feature writing like no other high school newspaper in the southeast.  Through the combined efforts of Atlanta Motor Speedway staff, NASCAR, the Fayette County News, and The Prowler, these students and adviser Justin Spencer will spend the last weekend of winter break covering the entire race weekend in Hampton, Ga.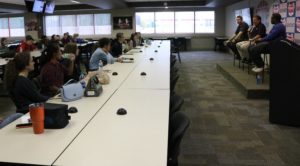 The opportunity began Nov. 1 when The Prowler staff took a field trip to the speedway.  Vice president of marketing and promotion Dustin Bixby arranged a day involving tours, pace car rides, and two Q&A sessions.  The first session allowed students to ask questions related to marketing and public relations.  After lunch, the students posed questions to Doug Turnbull from WSB Radio in Atlanta, Chip Zeller from Fox 5 Atlanta, and Darius Goodman from the Henry Herald.  
By the end of the field trip, the students already had a list of stories they wanted to write.  All they would need was access to write them.  Again, Bixby came through.  After conversations with NASCAR, Bixby secured four "hot" passes so the student journalists could have access to AMS, particularly the infield and garage areas.  
However, it was the partnership with Chris Dunn from the Fayette County News that enabled the final piece. With Dunn already planning to cover the start of spring sports, he will not be able to travel to Hampton to cover the race weekend consisting of races in all three of NASCAR's top divisions.  Writers from The Prowler will be handling those duties and covering the entire weekend not only for Starr's Mill's school newspaper, but the local Fayette County media as well.  With this added responsibility, The Prowler reporters will be credentialed as official media and granted the access that accompanies those credentials.
Through this access, The Prowler is already drafting plans for a variety of stories beginning with two feature pieces prior to race weekend.  During race weekend itself, two student journalists will draft two additional feature stories, while two other writers cover the action on the track.  Photojournalists will accompany the writers to help document the weekend.
Regardless the outcome on the track, the weekend will be a true hands-on learning experience for these Fayette County students.  Be sure to follow all of the action and reporting at www.theprowlernews.org.