Harvick blows away competition for first AMS victory in 17 years
A day after winning the Rinnai 250 in the Xfinity Series, Kevin Harvick dominated the Monster Energy NASCAR Cup Series Folds of Honor QuikTrip 500 at Atlanta Motor Speedway. Driver of the No. 4 Jimmy Johns Ford for Stewart-Haas Racing won two out of three stages and led a race-high 181 laps.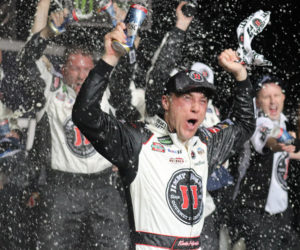 "Now it is meant to be," Harvick said. "And for me to do that celebration again very similar to what we did in 2001, I have been waiting for a long time."
With all the talk going on about the young guns and their strong start to the season at Daytona, veteran drivers showed their skills, stealing eight of the top ten positions. Chevrolet drivers in the new Camaro ZL1 struggled throughout the race, with only two finishing in the top-ten. Overall, Harvick outran the other drivers, leading the most laps at Atlanta for the fifth time in his career. A distinct strategy of his developed early in the race and helped him dominate the race that was delayed 2.5 hours because of rain.
"No one had anything for Kevin today," Keselowski said. "I think we all threw everything we had at him, and he was just better today. He drove three [stages] and had a really, really fast car and that's a potent combination."
Brad Keselowski, in the No. 2 Autotrader Ford for Team Penske, ran second behind Harvick. Driver of the No.14 Haas Automation Ford for Stewart-Haas Racing, Clint Bowyer, finished third and Denny Hamlin, driving the No. 11 FedEx Ground Toyota for Joe Gibbs Racing, ended the race in fourth place. Last year's series champion Martin Truex Jr, in the No. 78 Bass Pro Shops/5-hour Energy Toyota for Furniture Row Racing, finished out the top five.
"It kinda played out the way we thought it would," Hamlin said. "I thought we had about a fifth, sixth place score yesterday, [so] we improved on it a little bit today. We weren't very good in the short run [or] really good in the long run, so we obviously mixed up our strategy there to do something different and it played out for us."
"
I think we all threw everything we had at [Harvick], and he was just better today."
— Brad Keselowski
Cars began the first stage battling huge storm clouds and the Atlanta Motor Speedway's old surface, which chewed up their tires quickly. However, Harvick managed to win Stage 1 leading the most laps. In Stage 2, Harvick dropped to fifth due to pit problems while Keselowski captured first and Kurt Busch was runner-up. When the final stage arrived it was Harvick running away with the victory despite a late-race caution.
One lap into the race, Ryan Newman, No. 31 Liberty National Chevrolet for Richard Childress Racing, took the lead from Kyle Busch. Kyle Busch, on lap 18, regained the lead from Newman. But it was Harvick who captured the green and white checkered flag to end Stage 1.
Veterans dominated the entire first stage, and the team with the oldest average driver age, Stewart-Haas Racing, had all cars in the top 10. Seventy laps, it was obvious the Chevrolets were struggling, with only Kyle Larson managing a top-ten run to begin the race.
"I love racing cars," Harvick said. "We have to have great competitors to make the diverse fan base..There are not two new guys or two old guys who are going to make it. This is all about everybody."
Stage 2 started with Harvick losing positions coming off of pit road after trouble on the pit stop. Harvick then restarted 19th after the air gun issue forced him to come back down pit road to make sure all the lugnuts were secure. Kurt Busch, teammate to Harvick, led the most laps in Stage 2 with 37, but it was Team Penske driver Brad Keselowski who won the stage.
The threat of rain became a factor to begin Stage 3, adding another layer of intrigue and competition to the race. A battle between Keselowski and Harvick commenced as lapped traffic plagued the two fastest cars. Meanwhile, Hamlin and Joey Logano worked a different pit strategy to potentially gain an advantage.
As Harvick pitted under green, Hamlin would take over the lead. Then the pit stops would cycle around to Hamlin and Logano, and Harvick would regain the top position.
The strategy seemed to play in favor of Hamlin and Logano who would require one less pit stop, until 28 to go when Trevor Bayne blew an engine. The smoke caused a collision between Bubba Wallace Jr. and Ricky Stenhouse Jr. With the lead drivers all back on the same pit sequence, focus turned to the pit crews and a late-race restart.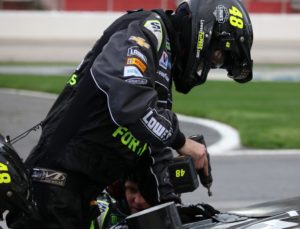 The race restarted with 21 laps to go. Dawsonville-native Chase Elliott, driving the famed No. 9, attempted to charge toward the front, taking the field four-wide, but it was all for nought as he finished tenth overall. Harvick easily took the point and with ten to go had already stretched his lead to 1.844 seconds.  He would go on to win the race over second place Keselowski by 2.660 seconds, capturing his first MENCS race win at Atlanta since 2001.
"What a good racetrack," Bowyer said. "I don't think you'll find a driver that doesn't enjoy this place," Bowyer said.
Seven-time MENCS champion Jimmie Johnson's rough start to the season continued at Atlanta.  The team struggled with tire issues early. In addition, he was penalized several times throughout the night for pit road violations and finished 22nd, multiple laps down.   
Georgia native David Ragan ended his 400th career start in 29th place.
Only Harvick and Keselowski secured playoff points throughout the race. Harvick left Atlanta with six playoff points after winning Stage 1 and the race. Keselowski earned one for winning Stage 2.
Up next is three weeks of MENCS racing out west.  The Pennzoil 400, won by Martin Truex Jr. in 2017, starts at 3:30 p.m. on Sunday, March 4, at Las Vegas Motor Speedway.