Late-game rally comes up short
Wolverines hand girls' lacrosse first loss of season
A season ago, one of the toughest opponents on the Starr's Mill girls' lacrosse schedule came in the form of West Forsyth. The Wolverines took the Lady Panthers to multiple overtimes before the Mill walked away with a 12-11 victory. This year, West Forsyth visited Panther Stadium with revenge on their minds, and they left Panther Stadium with a victory in hand.
"
As painful as it is to have a loss like this, I think we might get more out of it than if we had won."
— head coach Mary Lehman
The two teams battled back-and-forth throughout the entire game, with neither team gaining a sizeable lead, but West Forsyth held a 10-9 lead when the final buzzer sounded
"What doesn't kill you makes you stronger," head coach Mary Lehman said. "As painful as it is to have a loss like this, I think we might get more out of it than if we had won."
Senior Caroline Broderick led the Lady Panthers with three goals, while sophomore Ryanne King also earned a hat trick of her own. Junior Caroline Andrews scored twice, and sophomore Jordyn Richards scored once, rounding out the Panthers' scoring. Crucial turnovers late in the game plagued Starr's Mill and hurt their chances of winning.
Junior Ella Madsen dominated for West Forsyth, scoring six goals against the Mill. Freshman Maddie Houlberg picked up a hat trick of her own on the night. The Lady Wolverines defensive pressure and slow offensive pace helped them capitalize on every mistake the Lady Panthers made.
"We had some turnovers in the beginning of the game and some crucial ones late," junior Alyssa Angelo said. "If we clean that up, we learned that we have a great shot at going far in the season."
Starr's Mill opened the scoring with a goal early in the game. Broderick sliced into the Wolverine defense and fired a shot past the goalie for an easy score. Six minutes later, freshman Wolverine Cami Merkel assisted Madsen's first goal. Just over a minute later, King answered with another quick goal for the Mill.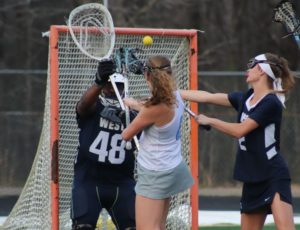 Down 2-1, Houlberg scored back-to-back goals to give West Forsyth the lead. The Lady Wolverines took time on their possessions, found open shots, and converted. Broderick and King both scored in the final four minutes of the half, and Starr's Mill led 4-3 at the break.
"We need to work better as a team," King said. "But we're getting there."
In the second half, Madsen went on a tear for West Forsyth, scoring five of her six goals throughout the 25 minutes. Her first strike came within the first minute of the half, but Andrews answered quickly for Starr's Mill. Three minutes later, Madsen scored again, tying the score at 5-5. Soon after, King scored her third goal of the night, giving the Panthers a narrow lead with 18:29 left in the game.
Over the next eight minutes, the Lady Panther offense stalled, and the Wolverines took advantage. Madsen scored first, then Houlberg, then Madsen again. Finally, Merkel scored her first goal of the night to put West Forsyth up 9-6 with 10:08 left in the game.
Desperately needing a goal, Andrews scored again to bring momentum back to the Starr's Mill offense, but Madsen beat the Panther goalie once more to make the score 10-7.
Over the final 4:27, Richards and Broderick scored for Starr's Mill, but costly turnovers prevented the Panthers from tying the game. West Forsyth hung on for a narrow 10-9 road victory.
"This is good timing for us to lose if we're gonna lose," Lehman said. "We're going to take this and use it to prepare ourselves."
West Forsyth followed their win over Starr's Mill with a 19-10 victory over the McIntosh Chiefs, improving their record to 8-2 on the year. Starr's Mill responded to their lone loss with a 17-0 demolishing of Mountain Brook.
Now 7-1, the Panthers look to build up another win streak. Their next game is on the road against Pope on March 26. Following that game they return home on March 28 to take on the Whitewater Wildcats in what will be the Lady Panthers' final home game prior to Spring Break.