Dominant defense, awful offense
The good, bad, and ugly of the Dream's 7-6 start
The Atlanta Dream recently knocked off the Connecticut Sun in a 75-70 comeback victory. While the victory was not pretty, it moved Atlanta to 7-6, just above .500 on the season.
"We have the market cornered on ugly wins," head coach Nicki Collen said. "There's no doubt, that wasn't pretty."
The Dream have battled to get to this spot. Their offense is the league's worst in almost every statistical category, but the opposite is true of their defense. There is a lot to like about the Dream, but there is also a long list of things holding them back.
The good
The Dream boast one of the best defenses the WNBA has to offer. Atlanta is second in the league in steals per game (7.8), third in blocks per game (5), first in opponent field goal percentage (40.3) and three point percentage (29.3), and fourth in rebounds per game (36.5).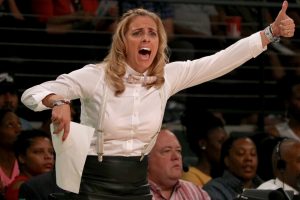 "Our strength is our defense," Collen said. "I think people would argue that we're the top defensive team in the league."
They have held Dallas — third in PPG — to 78 points in a loss, Seattle — second in PPG — to 64 in a win, and Connecticut — first in PPG — to 77 and 70 in two wins. They are able to slow down any team and this gives them a chance to win almost every single game they play. Of their six losses, three have been by single digit deficits.
Star forward and nine-year WNBA veteran Angel McCoughtry has come back from her one-year  hiatus to average over 18 points per game, and her 1.6 steals per game are good enough for third in the league. Forwards Jessica Breland and Elizabeth Williams are fourth and fifth, respectively, in blocks per game, and Breland is also fifth in rebounds per game.
"[Our defense] has played well all year," Breland said. "We've been holding teams under their average [points scored]."
All of these pieces have come together to form the defensive juggernaut that Atlanta is, and the defensive-minded Collen is hoping this defense can make the Dream a legitimate threat late in the season.
The bad
Atlanta has caught the injury bug early. Guard Brittany Sykes returned last night but has only played in eight of the 13 games, and guard Tiffany Hayes, who averages 17.9 points per game, recently went down and has missed the last two games. Losing Hayes just makes the Dream's offensive woes even worse.
McCoughtry is now the only active player on the team averaging double-digit points. However, Sykes tallied 13 points, four assists, and four rebounds in her return game, and it is crucial she steps up, along with eight-year WNBA veteran Renee Montgomery, in Hayes' absence.  
The ugly
Calling the Dream's offense ugly might be an understatement. The only consistency to their offense is inconsistency.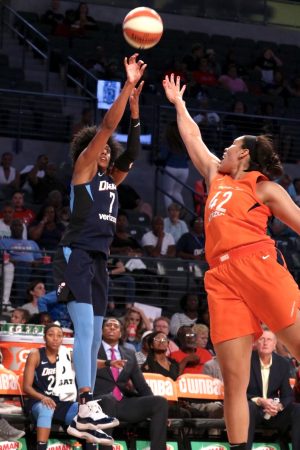 Teams like Seattle and Washington are deadly from three-point range, Los Angeles is deadly on the inside, and teams like Connecticut, a team and system Collen knows well having been an assistant coach there for three years, have a nice balance. Atlanta seems to still be searching for an identity on offense.
Atlanta shoots a league worst 37.9 percent from the field and 25.1 percent from three, and they're near the bottom of the WNBA in free throw shooting with a 74.2 percent clip from the line. Their 73.8 points per game output is dead last among the 12 teams.
"We're not shooting the ball really well," Breland said. "But we are getting a lot of possessions and getting up and down the court,"
The team wants to build its offense around McCoughtry in isolation, but they do not create the spacing needed to accomplish this. When she is not forcing her own looks, she disappears from the offense completely. Despite being the team's go-to scorer, she is currently shooting a career-low 40 percent from the field.
"We want to be a team that, quite frankly, plays like Connecticut," Collen said. "When we look ugly, a lot of times it's because our spacing is bad."
The silver lining
The Dream's roster screams potential. This roster was mostly put together in one off-season, as only three of the players were drafted by Atlanta. The rest were either traded to the Dream or signed in free agency.
The only thing Atlanta seems to be lacking is a system on offense. They have McCoughtry, Sykes, and Hayes — when she returns — to go along with the big bodies like Breland, Williams, and rookie Monique Billings. Getting those three scorers in pick-and-rolls with players like Montgomery and Dantas spotting up as shooters is one way to run some kind of offense.
They have players capable of making shots, they just need to get easier looks. When these players learn to play together and all buy into what their first year coach is selling, this could be a championship caliber team.
They already defend better than anyone else in the league, and when the shots start to fall, Atlanta could be looking at a real dream team.