Prowler staff takes on 'Palace of Speed'
While most Starr's Mill students soak in sun at the pool or escape to the beach this summer, members of the Prowler staff are already making plans for the fall. This week several Prowler staff members journeyed to Talladega Superspeedway to gain insight about the track before covering race weekend events.
Talladega public relations personnel Russell Branham and Alyson Thompson welcomed the Prowler staff when they arrived. Branham and Thompson provided a full, personalized tour of the facility, including seeing remaining aspects of the military base upon which the track sits. The staff then received a hands-on experience of Talladega through a pace car ride around the track. The trip ended with a walk through racing history at the International Motorsports Hall of Fame.
Justin Spencer
"There's no other racing like Talladega," Branham said. "You can come here and bite your fingernails and let it take your breath away. Come here to watch daredevils racing side-by-side at 200 mph."
Also included was a visit to the track media center and press box. Prowler writers and photojournalists will make a second trip to the race track just in time for the NASCAR action this fall. With full media credentials, four student journalists will cover the NASCAR Camping World Truck Series Talladega 250 on Oct. 13 and the NASCAR Monster Energy Cup Series 1,000Bulbs.com 500 on Oct. 14.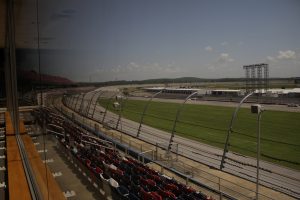 At 2.66 miles around, Talladega is not only a daunting task for drivers to navigate, but media as well. Prowler writers and photojournalists will race about Talladega's massive infield to acquire the quotes and photos they need in time for deadlines as drivers speed along the 33-degree banking around them. This provides a unique opportunity to challenge the Prowler staff and an outlet to showcase their work to Talladega's loyal followers.
In addition to covering the action on the track, staff writers plan to incorporate the track's one-of-a-kind aspects in their writings.
The reputed 'Palace of Speed' offers an unparalleled experience for fans. It's not only the largest track with the steepest banking NASCAR has to offer, but also the biggest party. Talladega's close pack racing never disappoints often leading to the so-called "big one," a massive wreck which excites the fans. Of course fans can as enjoy the other "big one," The Big One on the Boulevard, a Mardi Gras-style parade featuring drivers held the Friday of race weekend.  
"In racing we got everybody beat," Branham said. "I believe we got everybody beat off track in fan experience as well."
Fans can purchase tickets online at talladegasuperspeedway.com or by calling the speedway at 877-GO2-DEGA.