Long-time fans return for weekend at Atlanta Motor Speedway
The weekend inches closer as anticipation flourishes. Fans pour into the infield, as others set up their campsites for the weekend. Some fans have ventured to the Atlanta Motor Speedway for years to watch NASCAR while others are newer fans. Regardless of how much time these fans have invested into watching NASCAR at home and at Atlanta Motor Speedway, they are all there for the same reasons: to watch a good race and spend time with friends and family.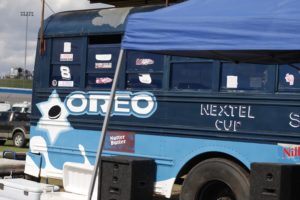 Most fans in the infield are hardcore fans that have been visiting the Atlanta Motor Speedway for years. However, these "fans" can come in more ways than just people. One example is the Oreo bus, a racing bus designed to watch NASCAR.
The Oreo bus used to be a regular, yellow school bus, but Russell Gossage, a long time NASCAR fan, and an old friend of his, helped turn that old school bus into what it is now. "We painted it, we did everything to it," Gossage said.
Gossage and his friend even personally equipped the top of the bus with a rack, making it possible to safely watch the race from a higher view. The name and art design behind the Oreo Bus derives from the the car Dale Earnhardt Sr. drove late in his career.
"My buddy, his two sons were [young] back then," Gossage said. "They liked the Dale Earnhardt Oreo car. That's how we came up with the paint scheme and everything."
His friend decided that he no longer wanted the bus, so Gossage ended up buying it and in doing so, created memories that he will never forget. "Every weekend on that bus is a new adventure," Gossage said. "Dale Earnhardt never personally visited the bus, but a bunch of drivers have been on there. We've done countless interviews on that thing and we've been on television with it several times."
It is understandable as to why the Oreo bus receives so much attention. Many of the RVs at the Atlanta Motor Speedway are sparkling clean, top-notch vehicles, while the Oreo bus is a scrappy yet elegant vehicle in that it has helped an entire family across generations create cherished memories at the Atlanta Motor Speedway.  
Sadly, Gossage could not partake in this year's festivities at the track due to being restricted to a wheelchair, ending a long streak of consecutive visits to the Atlanta Motor Speedway. Luckily, his nephew Ian Earnest continued the tradition of going to the track with the Oreo bus.
"Last time I came here was 10 years ago," Earnest said. "The bus has been coming longer than that, there's no telling how many years it has been coming. I'd say 15 or 20."
Earnest did not go alone, however. He participated in race weekend with his cousin's boyfriend, Matt Roberts, who has his own personal ties to the track.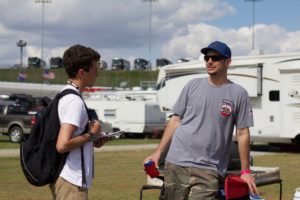 "I've been coming to the speedway since I was about four," Roberts said. "My grandfather used to be the chaplain of the speedway. He used to help run Raceway Ministries and he [was recently] inducted into the Hall of Lanes."  
Going to race weekend with his grandfather allowed Robert access that most common goers did not have. He was able to meet and hang out with various drivers, allowing him to create memories that most others can only envy.
One example is when he was 17-years-old, the year Jeff Gordon won his fourth championship and Bobby Labonte won the race at the Atlanta Motor Speedway. Roberts celebrated with a crowd near the racers. "There were these huge bottles of champagne spraying everywhere," Roberts said.
NASCAR is more than cars just going in circles at hundreds of miles per hour for hours at a time. It provides an outlet to create and foster long-lasting friendships. NASCAR and Atlanta Motor Speedway have attracted fans across generations for these reasons.
Camping, cooking, and creating memories are all aspects of race weekend that every fan holds dear to their heart. The Oreo bus is one of these stories, a story of tradition and relationships. NASCAR takes hold of fans' hearts, creating a relationship between NASCAR and those that love it.
View Comments (2)