To pave, or not to pave, that is the question
One of the huge discussions again plaguing Atlanta Motor Speedway staff, NASCAR staff, and NASCAR drivers, is the controversial, yet necessary, repaving of the Atlanta track.
"
[T]he tar currently sealing cracks in the track can only serve as a temporary solution for so long.
— A&E co-Editor Dana Gould
The 1.54-mile race track has not been repaved since 1997. While many people, especially drivers, argue against an Atlanta repave, the tar currently sealing cracks in the track can only serve as a temporary solution for so long.
"I think they did a good job patching [the track]," Bowyer said. "I mean it was obvious that they'd been out here working and trying to patch whatever cracks, or whatever was out there."
The track was scheduled to undergo a repave last year following race weekend. However, strong backlash from NASCAR drivers and fans alike resulted in the repave being pushed back 12 months. Unfortunately, delaying the issue a year did not cause it to disappear, leaving officials with the tough choice to repave it or leave it as is.
"It really puts a lot into the drivers hands, which is why drivers like [this track]," former NASCAR driver Brett Bodine said. "The tires have tremendous tire wear, [which] makes for speeds from fresh tire run and old tire runs to slow down drastically."
For many drivers, Atlanta is among the more demanding tracks due to old asphalt and very little grip. These drivers are up for the challenges the current Atlanta track brings and argue against a repave.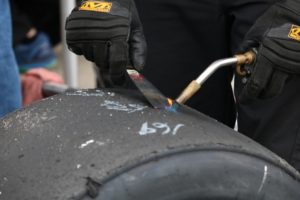 "I don't think you'll find a driver that doesn't enjoy this place, doesn't really matter where you finish," Clint Bowyer, driver of the No. 14 for Stewart-Haas Racing said. "It's a challenging racetrack. You can over attack it and you can underdrive it… It's just a pretty unique place [and] a lot of fun to race at."
Drivers at Atlanta enjoy the demands of the track and how it allows for more than one racing line. If the track is indeed repaved, these unique attributes may disappear until the new track surface begins to show wear, takes in new rubber, and allows for multiple racing grooves.
On days like this past Sunday with a poor weather forecast, yet another reason to repave becomes evident. Drying the older track proves more difficult than a smooth, newly paved track due to tiny cracks and crevices formed over years of wear.
These cracks and crevices can easily turn into "weepers," water seeping from underneath the track, creating more challenges for drivers and track officials. NASCAR has recently developed technology to drastically speed up the drying process, but it cannot stop these "weepers."
Fortunately, this past race weekend there were no problems with the current track surface. The rain that moved through was not extremely heavy. No "weepers" occurred and drying went off without a hitch as the race was able to proceed with only a slight delay.
Perhaps the racing surface still has a few years left in it after all.  Then again, maybe Denny Hamlin, driver of the Joe Gibbs Racing No. 11 FedEx Toyota, knows whether it's nobler to suffer another year of talk or take arms against the aged surface and race on — "[Keep it] 'til it breaks."