Everyone can live the Dream
Atlanta's WNBA team more than just another sports team
Atlanta is a city known for its sports teams. With Atlanta United setting attendance records and the Braves back atop the National League East standings, it is simple for the avid fan to overlook Atlanta's WNBA team. Although the team's current 8-9 record may not appeal to a city that supports winning programs, the Atlanta Dream is a team that sticks out from the rest due to its focus on leadership and being a role model for young athletes.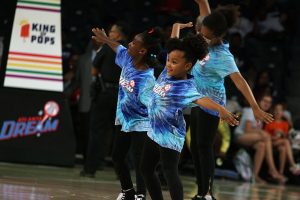 This year marks the 11th season for the Atlanta Dream. Prior to the 2018 season, the Dream rebuilt its entire roster, including the return of veteran star Angel McCoughtry and first-year head coach Nicki Collen.
"For us as an organization, we're specifically focused on middle school kids," team president Theresa Wenzel said. "Because we want to help them how to play at the highest level and still act with the highest character."
When not on the court, the players of the Dream put effort into other aspects of their lives, and help better the community. "They all give back, they all have different organizations they support," director of digital media and marketing Dan Goldberger said. "Whether its Boys and Girls club or whether its YMCA, they all really have a passion for giving back because they wouldn't be here without the help of others."
Forward Jessica Breland has her own company that she started after being cleared from cancer. Forward Angel McCoughtry is an entrepreneur and has her own ice cream shop. "We have a lot of women who are entrepreneurs," Atlanta Dream sideline reporter Tabitha Turner said. "They're really great role models. Even I look up to some of them even though we're all around the same age."
The players of the Dream use all of their off-court endeavors to set the tone of leadership on the court. They all use each experience off of the court to better the person that steps onto the court.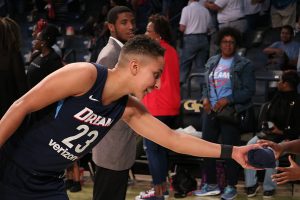 "You have to lead yourself. If you can lead yourself, other people will want you to be a leader," founder of Signature Leaders Carol Seymour said. "Each of us has our own unique gifts so learning how to bring your own unique gifts is important."
The women of the Dream do not focus on the pay of the job, and will serve the role regardless of what is given back to them. "These women are making less than probably most people working in here," Goldberger said. "So when you come see them, you really are showing that you want to support women, you want to support women athletes."
While in other sports players immediately run off the court or field, Dream players stay to interact with fans and deliver their inspirational messages one-on-one. "This is their job. This is their livelihood," head coach Nicki Collen said during the post-game press conference after last night's 95-86 loss to the Seattle Storm. "I got interviewed by a nine-year-old today who asked me incredible questions."
The Atlanta Dream is a team that is full of successful people on and off of the court. No matter what, these women want to help the people around them — that alone gives every person a reason to support the Dream.