Panther backfield bludgeons Raiders, clinches region championship
Last Friday, Panther Stadium was filled with tension as the Riverdale Raiders traveled to Starr's Mill with a region championship potentially on the line. The Raiders entered the game with a 7-1 record, including a flawless 4-0 region record. The Mill, with an overall 5-3 record, also boasted an unblemished record in the region. Players and fans anticipated a close matchup, but the Panthers dominated every aspect of the game en route to 45-22 victory.
"We were a little sloppy early," head coach Chad Phillips said. "But they played hard and had their legs under them."
"
Don't doubt us…We aren't the biggest team, but we have heart."
— junior running back Kalen Sims
Junior running backs Kalen Sims and Ardit Hoti combined for 270 yards and five touchdowns. Junior Ben Bodne added another rushing touchdown for the Mill. Junior quarterback Hunter Lawson completed three of his five pass attempts for 61 yards. Defensively, senior Sean King recorded two interceptions, and the Panthers also forced two fumbles.
For Riverdale, junior running back Phalon Daniels picked up 54 yards and a touchdown on 15 carries. Sophomore quarterback Avaun Rucker was five of 12 through the air, racking up 177 yards, two touchdowns, and two interceptions. The Raider offense only totaled 11 first downs, but their defense allowed 21 first downs from Starr's Mill.
"Don't doubt us," Sims said. "We aren't the biggest team, but we have heart."
The Panther offense started with possession but punted after just four plays. Riverdale followed with a five-play drive that produced the same result. The Mill's offense took over from their own 34-yard line and began to drive down the field. Starr's Mill managed to travel 34 yards before facing a fourth down from the Riverdale 32-yard line. They called on senior kicker Michael Lantz, who connected on a 49-yard field goal to put the Mill up 3-0.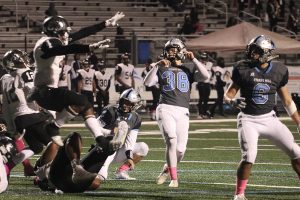 Looking to respond, the Raider offense returned to the field. They opened the series with a 12-yard pass, but faced a fourth-and-one a few plays later. On the down, they fumbled, giving the Panthers the ball at the Riverdale 36-yard line. Seven plays later, Bodne scored on a one-yard touchdown run that put Starr's Mill up 10-0.
"Our defensive line has been extraordinary," Lawson said. "All aspects of our defense are getting better."
With 10:24 left in the second quarter, the Raiders were still scoreless. That didn't change on their next drive, as they were limited to a three-and-out. After forcing Riverdale to punt from their own three-yard line, Starr's Mill started their next series only 26 yards from the endzone. They covered that distance in six plays, as Hoti scored on a 2-yard touchdown run that increased the Panther lead to 17-0.
The Raiders responded quickly with a two-play scoring drive. After a two-yard run from Daniels, Rucker connected on a 63-yard catch-and-run touchdown pass to junior receiver Tremain Moore. The score cut the Riverdale deficit to 10 with 6:33 left until halftime. Starr's Mill then answered with a three-play drive that ended with 55-yard touchdown run from Hoti, extending the lead to 24-7.
Both teams then traded touchdowns as Moore caught another touchdown pass and Sims broke off a 55-yard touchdown. The score entering the break was 31-14 in the Mill's favor.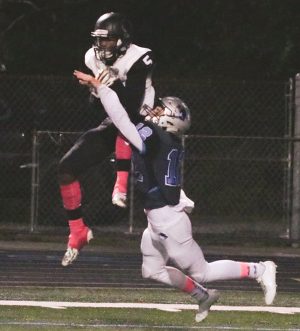 "[Lawson] is a competitor. He gets better every game," Phillips said. "He's been a good team leader."
The Raiders opened the second half with a fumble that gave Starr's Mill possession. Two plays later, Sims scored his second touchdown of the night to put the Panthers up 38-14. Riverdale answered with an 8-play, 80-yard drive that resulted in eight points. Daniels scored on a two-yard touchdown run, then the Raiders added a two-point conversion to close the gap to 38-22.
Starr's Mill then extended their lead on a nine-play, 59-yard drive in which Sims scored another touchdown, increasing their advantage to 23 points. The Raiders threw an interception on both of their final drives, eliminating any chance of a late comeback.
Despite losing 26 seniors from last year, the Panthers have silenced all doubters and clinched a third straight region championship. Lawson and Sims have led a young offense that is averaging 36 points per game. King and seniors Sam White and Michael Burnett have pioneered a much improved defense that has forced 11 turnovers in nine games. The only question that remains will be answered when the Mill opens postseason play.
"We needed this game to secure the region," Sims said. "We succeeded and all of our hard work paid off."
Riverdale squares off with Griffin on Nov. 2 in a matchup that will decide second place in the region. While Riverdale boasts a better overall record of 7-2, their region record sits at 4-1, which ties the Bears.
Starr's Mill takes their 6-3 record to Fayette County for the final regular season game of the year. The Tigers are on the verge of a winless season, as they are 0-9 overall, and 0-5 in the region. The contest is at 7:30 p.m. on Nov. 2 at Fayette County High School.