Steller sophomore sends lady Panthers to Sweet Sixteen
The Lady Panther soccer team, the No. 2 seed of the Region 3-AAAAA, team defeated Ware County 5-0, No. 3 seed of the Region 2-AAAAA, in an energetic, thrilling match where Starr's Mill controlled the ball. The Mill settled the ball well throughout the game, which gave them the advantage over the Gators.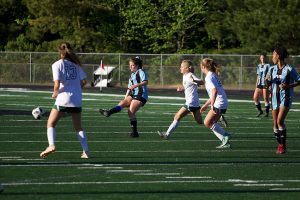 Leading the Panthers was sophomore Sara Evans with three goals. Senior Rachel Davison and freshman Sophia Bernardi each added one goal. The Panthers did not allow a single shot on goal throughout the game.
"It started off pretty slow for us," Evans said. "I think the heat really got to us. We could've done a lot better."
In the first half, tight passes paired with keeping the ball on the ground allowed for Starr's Mill to get in the box. However, they were unable to finish the play until the 33rd minute of the game.
Evans scored the first goal from within the box, which was shot into the goal after hitting the post. This goal sent the game into halftime with a score of 1-0 favoring the Lady Panthers.
"The intensity level, particularly in the first half was not very good," head coach John Bowen said. "We lost our cool in the second half a bit, but the intensity level was raised after that."
The second half was much more eventful, with the first goal being scored 12 minutes into the second half. Davison scored the second goal for Starr's Mill from just outside of the box.
One minute later, Bernardi had a shot go into the goal, but a fight between Davison and a player from Ware County caused the goal to not be counted. Both players left the game with a red card.
Evans followed this intensity with her second goal of the night in the 58th minute. This left Bernardi wanting her shot at scoring in a playoff game, and she scored her goal in the 65th minute.
Evans scored the last goal of the night in the 69th minute. Although the Panthers were done scoring, the intensity did not drop, and Starr's Mill remained in control of the ball.
"We played for each other," junior Chloe Spradlin said. "We were encouraging each other, which is good because in playoffs it's a whole different type of game. You have to be there for each other and encourage each other to put 100 percent on the field."
Up next, the Lady Panthers will play the victor of the game between Thomas County Central, the No. 4 seed of Region 1-AAAAA, and Union Grove, the No. 1 seed of Region 4-AAAAA.