Lady Panthers primed for playoff push
Last season's state runner-up is back and prepared to claim what they failed to win last year. The Starr's Mill girls' lacrosse team concluded their regular season with a 17-1 win over McIntosh, and followed that with a 20-1 win over Woodland in the first round of the GHSA A-AAAAA State Playoffs.
"We're definitely getting good ball movement," head coach Mary Lehman said. "Our defense is really doing well. Holding teams to one shot is pretty amazing."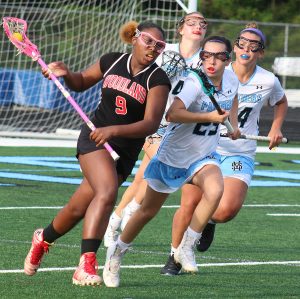 In the Lady Panther win over Woodland, five different players notched a hat trick. Senior Ansley Wallace, juniors Ryanne King and Maddie Kross, and freshmen Emma Grace Hepler and Hannah Leon all found the net three times. Senior Caroline Andrews contributed four assists in the Mill's blowout round one win.
Woodland struggled to gain possession, and found few opportunities to score. Their lone goal came at the end of the first half, but the Wolfpack simply couldn't compete with a hungry Starr's Mill team.
"We're really communicating well. I think our minds are in the right place," Wallace said. "The state championship is in our reach. We just have to know we have to put in the work no matter who we're playing."
The game opened with a goal from Hepler, and many more followed. Just 10 minutes into the game, the Lady Panthers led 6-0. Their quick ball movement and motion on offense led to easy goals. By halftime, they had built a 12-1 lead.
The scoring continued in the second half, as Hepler, King, Kross, and Wallace all earned their hat tricks. Freshman Briley Kalen and Kathryn Lehman also joined in, scoring one goal each. The final 25 minutes saw the Mill increase their lead to 20-1, leading them comfortably into the second round.
"You just have to focus on one game at a time," King said. "You can't make any game a bigger deal than it is."
Next up for Starr's Mill is Holy Innocents Episcopal. The Golden Bears are 10-7-1 this year and defeated Mount de Sales 22-3 in their first round matchup. They will travel to the Mill for their contest against the Lady Panthers.
The two will face off at 7:30 p.m. on May 6 in Panther Stadium.