Another shutout win sends Panthers to Elite Eight
After a shutout victory over Ware County in round one of the GHSA AAAAA playoffs, the No. 1 seed varsity boys' soccer team returned to Panther Stadium to take on the Woodland High School Wolfpack, the No. 2 seed from Region 4-AAAAA. The Panthers controlled the pace for the entire game, winning 4-0.
For Starr's Mill, seniors Noah Pavel and Ryan Shanahan and sophomores Austen Morris and Jake Eubanks each had one goal. On defense, seniors Blake Helms and Jordan Cole and freshman Jacobo Velez kept the Woodland offense at bay.
"This game was a good defensive showing for us," Velez said. "We ended with a clean sheet, and we kept all their runs secure."
The first 10 minutes were slow for both teams, as neither team could make a fast break down the field. However, in the 12th minute, Morris slipped a shot by the Woodland keeper, making the score 1-0.
After that goal, the game became physical, with lots of pushing and shoving throughout the rest of the game.
In the 24th minute, Shanahan scored off a penalty kick, increasing Starr's Mill's lead to 2-0. Three minutes later, Pavel scored off a corner kick, making the score 3-0. Both teams played slowly after that, leaving the score 3-0 at halftime.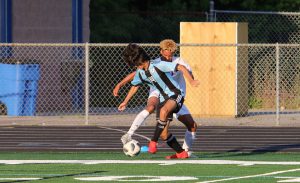 "This win feels good," Pavel said. "Heading into the Elite Eight next week, so it's good to have that momentum."
More physicality was shown to start the second half, as both teams continued the chippy play from the end of the first half. However, the Panthers never let Woodland's actions get into their heads and continued playing their game.
Eubanks scored the sole goal of the second half just outside the box to increase the team's lead to four. Following that goal, the Mill let their younger players finish off the game and secure a 4-0 Panther win.
"We need to do a little better on our passing instead of not giving the ball away so much," head coach Mike Hanie said. "There's gonna be mistakes in games, but we need to clean them up in order to beat the tougher competition."
This win moves the Mill into the Elite Eight of the AAAAA GHSA State playoffs. The team will play at 7 p.m. on May 8 against the Cross Keys High School Indians, the No. 1 seed from Region 5-AAAAA, in Atlanta.