Same opponent, different result
Panthers avenge last year's loss, advance to first championship since 2010
After beating Cross Keys in the third round of the GHSA AAAAA state playoffs, the No. 1 seed Panthers returned to Panther Stadium to take on the Johnson High School Knights, the No. 1 seed from Region 8-AAAAA and reigning state champions. The Panthers played harder throughout the entire game, winning the game 1-0 and advancing to the AAAAA GHSA State Championship for the first time since 2010.
"
We've got ourselves together in the postseason, and we're doing good."
— senior Blake Helms
Sophomore Jake Eubanks scored the sole goal of the game in the second half. The Panther defense stepped up big to keep the reigning the state champions off the board, as the Knights scored four times on the Panthers last year.
"It's been our goal all season to make it to the State Championship," senior Ryan Shanahan said. "It means everything that we made it in [Coach Hanie's] last season."
The first half started slow for both teams, as both teams could not muster any offense for the first fifteen minutes of the half. After that, the Panthers attempted to put some points on the board, as Eubanks, Shanahan, and senior Noah Pavel each had chances to score but to no avail.
Johnson also had chances to score, but senior keeper Michael Lantz saved all three shots that came to him to end the first half scoreless.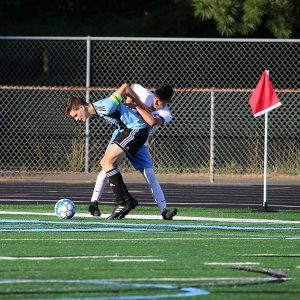 "[The defense is] a brick wall," senior Blake Helms said. "We've got ourselves together in the postseason, and we're doing good."
Continued slow play plagued the first twenty minutes of the second half. In the 60th minute, Eubanks snuck a header past the Johnson keeper to take a 1-0 lead.
The rest of the game saw the Starr's Mill defense continue to stop the Johnson defense for the rest of the game, winning 1-0 to advance to the State Championship.
"This win was fantastic," head coach Mike Hanie said. "It's special anytime a team can make it to State. It doesn't get any better than this."
On the other side of the bracket, the No. 2 seed McIntosh Chiefs defeated the No. 3 seed Whitewater Wildcats 3-0 to advance to their second straight State Championship game.
The Panthers and the Chiefs will play their State Championship edition of the Battle of the Bubble at 2:30 p.m. on May 18 at Mercer University in Macon, Georgia. The last time these two teams played for a State Championship, Starr's Mill won 4-2 in PKs.