Team of titans
Softball dominates first half of season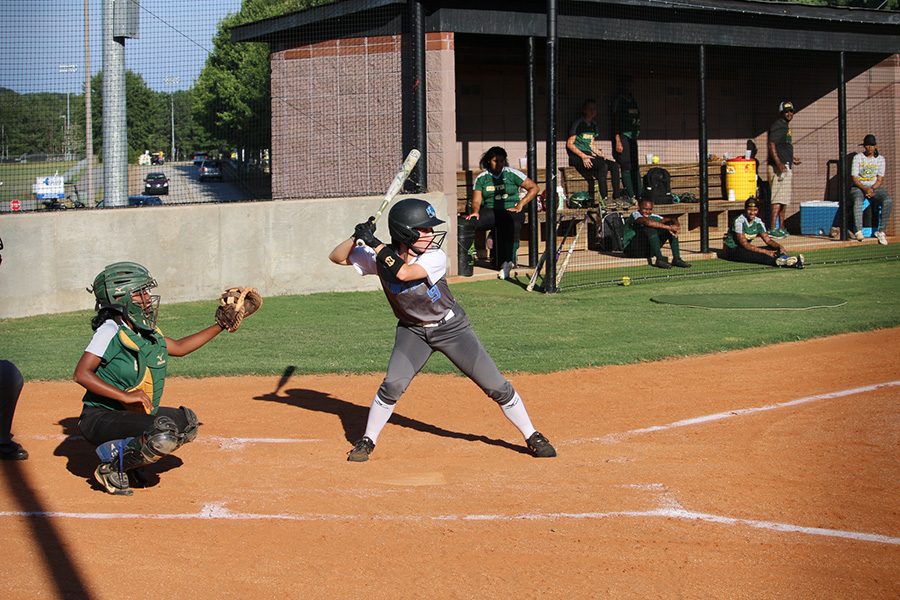 To round out the first half of the season, the Starr's Mill Lady Panthers softball team faced off against Griffin in a doubleheader last Thursday. The Panthers dominated both games with a combined score of 31-1. 
Those wins are indicative of this team's strengths. In nine of their 14 wins, they have beaten their opponents by seven or more runs. The Panthers have also pulled off six shutouts so far this season. 
In the success this team has accumulated, there have been three major pieces that make up this squad's ability.
Pitching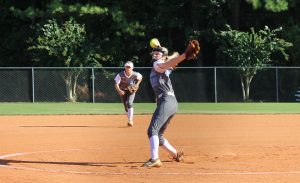 The Panthers pitching core that has consisted of sophomores Sarah Latham and Lilli Backes, and senior Paige Andrews, have become a threat for any solid hitting team.
"[The pitchers] go to private instructors and pitch in the summer," head coach Mark Williamson said. "I wish I could take credit for it, but that's on them and their hard work."
Backes and Andrews have combined for a total of 115 strikeouts so far this season, only allowing a total of 57 hits and limiting opponents to a meager .172 batting average.
"Everybody is hitting their spots, and the defense is also backing up the pitching," Andrews said.
Backes, the starting pitcher, has led the team in multiple stats. She leads the team with 84 strikeouts, 24 hits allowed, and an allowed batting average of .155. She is on pace to reach 200 strikeouts by the end of the season.
This formula has proven to be effective as Starr's Mill has only had teams score more than five runs three times in seventeen games.
Hitting
Start Mill's hitting has been nothing short of phenomenal this season. This can be tracked by how Starr's Mill has scored double-digit runs in six games, five of those being against region opponents.
"We're working on drills where we're locating the ball and making sure, with our pitches, that we know where we need to go with the ball depending on where the runners are and situations like that," senior Reagan Turner said. "I think practicing like that like we have been benefits us in the games."
The Panthers have totaled 145 hits, 93 RBIs, and 134 runs. Five players on the team have managed a batting average greater than .475. These players, sophomore Sydney Blair, and juniors Jolie Lester and Lauren Flanders, have been some of the highlights of this hitting core.
Those three have combined for 74 runs, 42 RBIs, and 62 runs. But those three alone do not make up the hitting core. The aforementioned players, sophomore Backes, and seniors Andrews and Turner, and more have put up numbers for the team to make this hitting core so successful.
"The hitting comes and goes," Williamson said. "Our job [as coaches] is just to find the right pieces and put them in the right spots and hope we are successful."
Most of the hitters on the team have hit not only well, but also consistently. The team has only been shut out twice this season and has scored more than five runs in over eleven of their fourteen games.
Their successful hitting has allowed their team to be ahead in many games. In their away matchups against McIntosh and Whitewater, the two top forces in the region, Starr's Mill has bested McIntosh 8-0 and Whitewater 13-1.
Base Running
While rather an unorthodox main point, base running has still been essential to the team's success.
"
If you've ever played infield and see that kind of speed, you know it makes the defense make more mistakes."
— head coach Mark Williamson
"[Flanders and Blair] really go hard on that. They just grind," Turner said.
Blair and Flanders have set the trend for stealing bases for the team, combining for a total of 36 stolen bases. The team has continued to follow suit with what Blair and Flanders have set.
Starr's Mill as a whole has combined for 56 stolen bases, and have only been caught five times. The Panthers being able to steal bases like this has made it even more difficult for opposing defenses.
"It puts pressure on the defense," Williamson said. "If you've ever played infield and see that kind of speed, you know it makes the defense make more mistakes."
The presence of base stealing on the team has done exactly that. It has helped runners quickly get into scoring position, effectively helping produce the large amount of RBIs the team has gathered.
Looking ahead
Starr's Mill has set themselves at the top of their region with an 7-0 region record so far this season. Their versatility has helped them become such a dominant force and such a threat against any team they face.
The Lady Panthers' next game is against region opponent McIntosh at 7:00 p.m. this Tuesday at Starr's Mill.