Tough pill to swallow
Whitewater edges out Starr's Mill in five-set thriller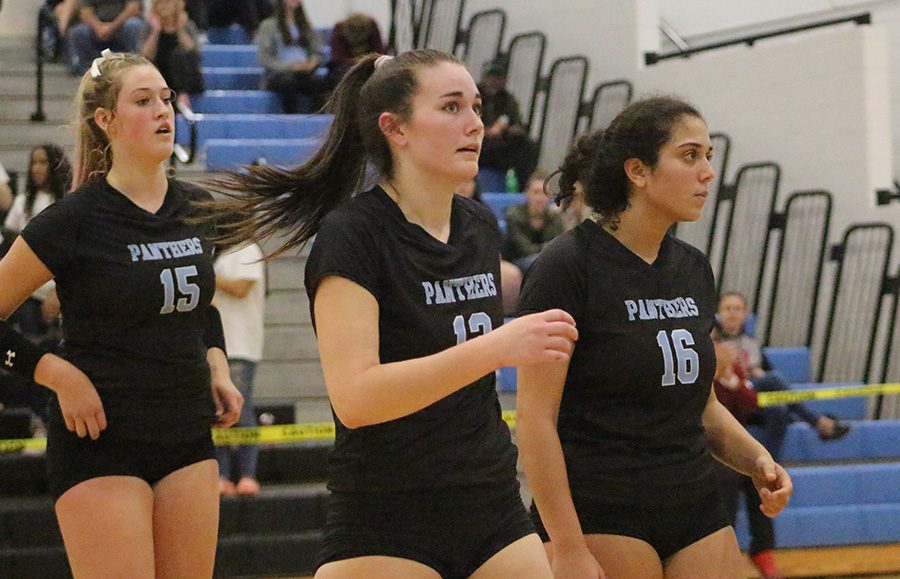 Last Tuesday, Starr's Mill volleyball competed against the Whitewater Wildcats in the AAAAA state playoff semifinals. Both teams fought hard and pushed to punch their ticket for state. Unfortunately, Starr's Mill fell to Whitewater in game five, capping off the back and forth series.
"I think [not playing aggressively] hurt us," head coach Jason Flowers said. "When we're not going after it and we're not playing hard the whole time, then we make mistakes and we don't play aggressively like we should."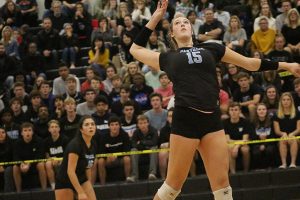 Whitewater also had some standout performers in their victory. Sophomore Candace Walker, junior Annette Baker, and senior Destinee Langston all accumulated double-digit kills. Junior Elizabeth Skibiel, Baker, and senior Jonna Knight all had double-digit digs as well. Sophomore Ashli-Amari Cox, Whitewater's player of the game, made four solo blocks and eight block assists.
In the Starr's Mill effort to win, multiple players put up good performances. Sophomore Nicole Smith and junior Luna Wan continued their attacking dominance with 15 and 17 kills, respectively, as well as a solo block each. Sophomore Grace Ramkissoon and seniors Tessa Laney and Georgia Waller all had double-digit digs. Laney served two aces and made 50 assists in her final game.
"[Our hot streaks] honestly felt great," Wan said. "I just wish we could've kept them longer."
Set one began with a rocky start for the Panthers. The Wildcats struck quickly, accumulating an early lead. Starr's Mill made many uncharacteristic miscues. By the time Starr's Mill could get things together and begin a comeback, it was too late. Whitewater easily took set one by a score of 25-19.
There were multiple lead changes in set two. When one team got a lead, the other would come back and take another lead. The multiple lead changes lead to a 22-22 tie. Starr's Mill capped the set off by scoring three more points. Set two finished with a final score of 25-22 Panthers.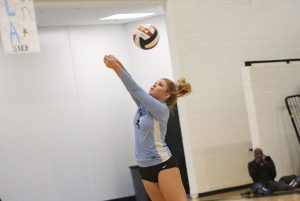 "[Our hot streaks] felt like we could actually win," senior Piper Dedrick said. "Since we beat them last year we had a really good mindset."
Starr's Mill's might was on full display in set three. They took an early 8-3 lead. They never looked back as they continued to widen their lead. Despite Whitewater's efforts, they didn't have a chance. The Panthers handily took set three by a score of 25-14.
The Wildcats recouped and it was their turn to attack in set four. Like the Panthers in set three, Whitewater found a lead and didn't look back. Similar to set one, the Panthers couldn't get anything off the ground to get the win. Whitewater took advantage and won by a score of 25-16.
"[The team] just leaned on each other for support," Waller said. "I'm proud of our accomplishments. I think we worked really hard."
The match came down to the fifth set. Throughout the set each team exchanged score after score. Each team fought hard to get the win. It was evident with long volleys and momentum shifting back and forth all set long. In the final moments, Whitewater pulled ahead, then Starr's Mill, then Whitewater, then Starr's Mill again. There was not a single lead that was larger than two points.
Starr's Mill led 13-11 when Whitewater scored three more points to take the lead 14-13. One long volley later, and an attempted spike by Dedrick went straight into the net. The Wildcats ended the game with a 15-13 victory, taking the intense match 3-2.
"I know it hurts now and [the players] don't like the result right now," Flowers said. "But I think when they look back, especially the seniors look back on their influence over the program the last three or four years, they've brought the program back to the top again when they had struggled. So it hurts now, but [the team] will feel better later."
Just like that, a phenomenal season was over. Whitewater advanced to face off against McIntosh for the state championship. 
Starr's Mill finished the season with a final record of 33-13. Seniors Laney, Waller, Dedrick, and Kayla Sloan all end their high school careers. They will be succeeded by Smith, Wan, and many other young players next season.