Basketball queens
Several girls' basketball programs face off at Queens of the Hardwood
During a period where students were getting prepared for the end of the semester, twelve girls' basketball teams showed up at Whitewater High School for the third annual Queens of the Hardwood Classic. 
"Because there's so much talent on the southside, we're trying to showcase the southside here," Queens of the Hardwood coordinator Rashad Muhyee said. "We're pleased with [the event]. I'm pretty sure the fans were pleased with it."
Five games were played that built up to the main event of Lovejoy vs. Westlake, the battle of two nationally-ranked opponents. These games provided exciting matchups and showcased different talent across the southside.
Memphis Arlington 40 – McEachern 39
Traveling down from Tennessee, the Memphis Arlington Tigers faced off against the McEachern Indians in the fifth matchup of the night. This game was one of the more tightly contested games of the event. Both teams tried to claw for a win, with Memphis Arlington able to hold on for the victory.
Senior Christina Nichols, who was named player of the game, led Memphis Arlington with 21 points, six of those points came from two three-pointers. Second in production was junior Carmen Taylor with eleven points. 
"Defense-wise, defense wins games so we practice all the time defense, defense," Nichols said. "The last shot of the game we played our tail off, so it paid off."
Sophomore Caelan Ellis pulled out all the stops for McEachern. She racked up 20 points, including six three-point field goals. The only other person close to her productions was senior captain Daelyn Craig with seven points.
McEachern started the game hot, but Memphis Arlington came back in late to keep it a one-point game. The game was kept close through the second quarter, with the score tied 20-20. The Tigers slowly pulled away throughout the third quarter, taking a 37-27 lead into the fourth.
Their lead slipped throughout the fourth quarter due to a lack of production. They did not even score their first points of the quarter until the last two minutes. Their defense was able to stand firm to keep McEachern from taking the game. The Tigers were able to head back to Tennessee with a 40-39 victory over the Indians.
"We've got veteran guards. When you've got really really good guard play you can [keep the game in your grasp]," Memphis Arlington head coach Wesley Shappley said. "[McEachern] ended up getting transition bucket on [outside threes], so that gave them an opportunity to come back. But for veteran guards, man, you can win a lot of games."
"
[This win] gives us more confidence to go out into the season, so when it gets to the playoffs we know we gotta play hard."
— Elite Scholars sophomore Layla Hood
Memphis Arlington advances their record to 9-1. They will play their next game in Dyer, Tennessee, against Gibson County this Friday at 7:30 p.m. McEachern's record goes down to 5-2. Their next matchup will be in the Crescom Bank Holiday Invitation against Lebanon this Wednesday at 12 p.m.
Elite Scholars Academy 50 – Whitewater 36
For the first game of the day, the Elite Scholars Academy Royal Knights went up against the Whitewater Wildcats. Elite Scholars Academy controlled the game right from the start. They were able to stay in control to leave with a victory.
Leading the charge was sophomore Layla Hood, who had 22 points on the day. Eighteen of her points came from two-point field goals. Second in numbers was junior captain Gabryelle Matthews with nine points.
"I can take away that when we play hard and get a lead it helps us think more and take our time," Hood said. "[This win] gives us more confidence to go out into the season, so when it gets to the playoffs we know we gotta play hard."
Nobody on Whitewater was even close to Hood's numbers. But sophomore Charity Cloud was on par with Matthews, scoring nine points and leading the Wildcats in scoring. Junior Sole Chinnery was not far behind, scoring eight points, including two three pointers.
After establishing a nine-point lead at the end of the first quarter, Elite Scholars Academy did not look back. The Royal Knights simply kept their momentum throughout the game. They managed to keep Whitewater at bay to take a swift 50-36 victory.
"We need the momentum," head coach Kevin Davis said. "We're just going to keep the momentum going."
Elite Scholars Academy's victory bumped up their record to 4-4. They will head to Atlanta and play W D Mohammed in a region game this Tuesday at 6 p.m. Whitewater falls further down to 1-9 with this loss. Their next game will take them to Albany on Dec. 27 for the Greenberg-Price Tournament against Doughtery at 10 a.m.
Spalding 47 – Sandy Creek 42
In the second matchup of the day, the Spalding Jaguars took on the Sandy Creek Patriots. Despite Spalding never dropping their lead, Sandy Creek was, for the most part, right at Spalding's heels. Like the previous game, Spalding was able to use the momentum they had to keep a win in their grasp.
"
Making sure everybody is playing their role, boxing out, listening to the coaches, it just helped us."
— Spalding junior Kierstyn Milner
Junior Kierstyn Milner led Spalding with a whopping 24 points, including two three-pointers. Junior Elicia Threatt added 11 points. The team as a whole did not score less than nine points in any quarter.
"We still played a total game without our top scorer," head coach Tykira Gilbert said. "That was a good sign that somebody else could step up and score too.
Sandy Creek had some standout scorers as well. Junior Jania Hodges led the way with 17 points. Junior Arielle-Vadrelle Belinga was not too far behind, scoring 13 points. Three different Patriots scored three pointers, Hodges, Belinga, and freshman Janae Walker.
Both teams kept it close throughout the first quarter. Spalding began to pull away during the second and into the third quarter. Late into the third, Sandy Creek went on a scoring spree, totaling 15 points in the third quarter to make the game a single point game going into the fourth. 
The Jaguars retained the lead they had all game throughout the fourth quarter. Sandy Creek was not able to do enough to win the game. The final score was 47-42 Spalding.
"[I tried to] be a leader on the court," Milner said. "Making sure everybody is playing their role, boxing out, listening to the coaches, it just helped us."

Spalding boosts their record to 8-2. They will host their next game against Newnan this Friday at 6 p.m. Sandy Creek falls to 3-5. They will host Towers for their next matchup this Thursday. The time for tipoff is to be announced.
Columbus Carver 58 – Columbia 42
Up next was the third matchup of the day, the Columbus Carver Tigers versus the Columbia Eagles. Despite starting close, Columbus Carver slowly pulled away until they were in control.
Keeping their lead, the Tigers were able to stand strong and take the victory.
Player of the game, senior Olivia Cochran, put up an astounding 31 points, over half of the team's total points. The closest to Cochran's numbers was junior captain Kionna Gaines with seven points.
"We was a little windy, we got a little tired, so we had to step back up and just knock down shots, take our time, get back in focus," Cochran said. "[We'll] just stay hungry and humble."
While not up to Cochran's number, Columbus still had some standout scorers. Junior captain India Terrell scored 21 points. Senior captain Elise Harden was second in scoring with 13 points. Four different players made three-pointers: Harden, Terrell, sophomore Brianna Culpatrick, and junior Mic'Kayla Spive.
It was only two-point game at the end of the first quarter. The second quarter stayed a defensive battle until the latter half, when Columbus Carver was able to jump out to an 11-point lead at the half. 
The Tigers went dry during the third quarter, but the Eagles did not do anything to capitalize. Columbus Carver quickly swung momentum back into their favor. Throughout the fourth quarter, the Tigers increased their lead to run away with a 58-42 victory.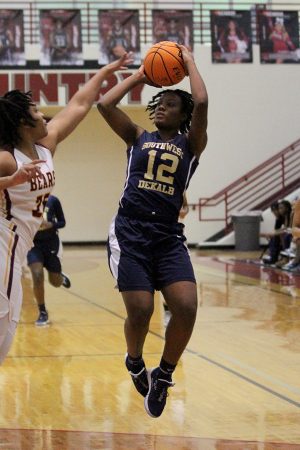 "[Taking that game] kind of goes with our defense," head coach Anson Hundley said. "As it wears you down, we get stronger, and that's how we ended up getting some points and made some buckets that kind of gave us the chance to pull away."
Columbus Carver's record moves to 6-2 with this victory. They will travel to Columbus, Georgia, to play Columbus in a region game this Tuesday at 6 p.m. Columbia moves down to 4-5 with this loss. They will host Miller Grove in a region game this Tuesday at 5:30 p.m.
Holy Innocents 66 – Southwest Dekalb 47
As the fourth matchup of the day, the Holy Innocents Golden Bears played against the Southwest Dekalb Panthers. Holy Innocents played commandingly over Southwest Dekalb. Holy Innocents did not let off the gas once they were ahead to take an easy victory.
Scoring the highest was junior Jillian Hollingshead with 21 points. She did not score less than six points in the three quarters she played. Senior Jada Ferrell was right behind behind with Hollingshead with 18 points.
"Our kids just made a decision every day at practice where we come out and it's just very high intensity," head coach Nicole Dixon said. "They do a fantastic job trying to meet those standards of excellence that we do."
Southwest Dekalb was led by junior Pryla Thompson with 11 points. The two players behind Thompson wereere juniors Taylor Christmas and Aniyah with seven points a piece. The Panthers had six players that contributed contributed five or more points.
Starting in the first quarter, the Golden Bears launched ahead with a 12-point lead. Holy Innocents kept their advantageous lead all game long. Southwest Dekalb was not even close to making a dent in the lead. With their control over the game, the Golden Bears cruised to a 66-47 victory.
"In practice my coach says, 'Practice as you play'," Hollingshead said. "We have a good chemistry, so when we got out there we just did [what we practiced]."
Holy Innocents advances to an 8-2 record. Their next game will take them to Forest Park this Saturday at 3 p.m. Southwest Dekalb receives their first loss of the season and falls to 8-1. They will play next at the Holiday Invitational of Myrtle Beach Tournament this Wednesday. Their opponent and tipoff time are to be announced.