It runs in the family
Walker family knows a thing or two about sports
Sports is not just a fun activity that provides a great workout. They have the power to bring people together. In the case of the Walker family, sports has been a way of life.
"Our family operates a lot like a team," track head coach and football assistant coach Chad Walker said. "Everyone has a specific position and sometimes those positions change depending on circumstances."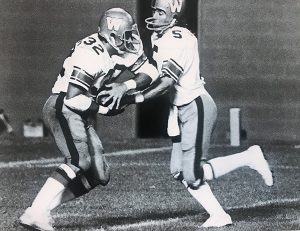 Each family member is or was involved in a multitude of sports. Chad played hockey and football, his wife of 20 years was a gymnast and cheerleader, Raney (senior) and Allie (junior) both run cross country and track, and Bo (8th grade) plays baseball.
"My kids have accomplished some great things in their young lives," Walker said. "But I feel the best is yet to come. The sky is the limit for them."
Walker was introduced to sports at an early age. His father Tom Walker played football for the Winnipeg Blue Bombers in the Canadian Football league from 1972-1979. While in Canada, Chad played a lot of hockey early in life. He and his family moved to the U.S. when he was seven and he fell in love with football.
As far as the rest of his family, Chad's mother holds the 100-yard dash record at her high school, his grandfather was a boxer, and his uncle played quarterback at Syracuse University. In addition, his sister ran cross country and track at the University of Georgia, his brother was a walk-on for the football team at Georgia Tech, and his nephew played football at Georgia Southern. 
In college, Walker played wide receiver at West Georgia, and even participated in NFL training camps with the New England Patriots and the New York Jets. As a backup plan, Walker turned to teaching, starting at Wheeler High School before moving to Starr's Mill in 2005.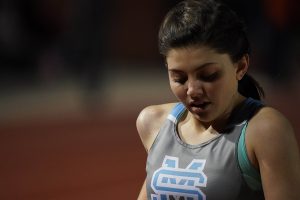 His wife participated in gymnastics early in life. Doing so allowed her to cheer at the University of West Georgia all four years she attended there.
Walker's love of sports has also spread to his children, as Raney, Allie, and Bo have all participated in sports for their entire lives.
Raney has been on the Starr's Mill cross country since her freshman year, and recently signed to continue her cross country career at the University of North Georgia. 
"I am over the moon proud of Raney," Walker said. "She made the decision to pursue this and went after it on her own."
Allie has also participated in cross country and track, placing sixth at the region meet, the first Lady Panther to cross the finish line, and 31st at the cross country state meet in the fall. 
She also finished second in the 800 and 1600 meter at region, and third in the 800 meter for track last year at state. She was on a stellar relay team that consisted of former Panthers Tara Davis, Lea Duben, and Bree St. Julian that placed first at the region meet and third at the state meet.  
Bo chose a different sport that landed him on Sportscenter Top 10 Plays.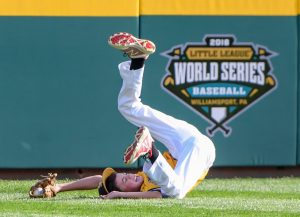 Baseball is Bo's passion, and it led him to making it to Williamsport, Pennsylvania, as a member of the Peachtree City Little League team representing the southeast. The team finished fourth overall, losing to Hawaii in the U.S. championship game, and Japan in the third place game.
Playing against top caliber teams from all over the world allowed Bo to hone his skills. Maybe we will see him repping the blue and black for Starr's Mill when he reaches high school.
Chad Walker has a mantra for his track athletes: AIE. Attitude. Is. Everything. He is a true believer that sports is more than just a fun leisure activity. It teaches people about life, work ethic, discipline, adversity, and how to win and lose.
As far as what the future holds for the Walker family in regards to sports, no crystal ball is needed to know that the future is bright.
"I believe [my kids] can accomplish anything that they put their mind to," Walker said. "That is up to them. They will determine that on their own."
Sports truly does have the power to bring people together. They inspire people and teach them lessons on life. We can all learn something from the Walker family — sports are powerful.
Leave a Comment