Varsity battles, youth prevails at annual AT&T Panther Invitational
Last weekend, Starr's Mill hosted over 40 high school teams in the 9th Annual AT&T Panther Invitational at One Church. Only one runner from each varsity squad placed in the top 20, while the junior varsity and freshmen teams made quite a statement.
"This is a great race because it's our home course," coach Kelly Rock said. "It's a challenging course, but the kids are familiar with it, and so they always get excited about it."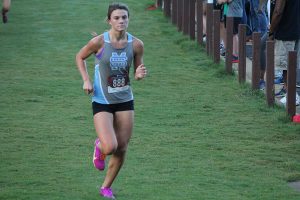 Kelly Ann Sutterfield from Blessed Trinity finished first in the varsity girls' division with a time of 18 minutes, 53 seconds, while Tallassee High School's Woodrow Dean placed first in the varsity boys' race with a time of 15 minutes, 32 seconds in the 5k event.
"[The One Church course] almost belongs to us, so we're more invested in it, so the excitement going into this meet is always really high which helps with optimism among the team," Rock said. 
Despite the challenging course, the varsity girls' team did well. Senior Darby Olive from Starr's Mill came in 17th place, the fastest Panther in the race, with a time of 20:00. Senior Allie Walker was not far behind coming in 26th place running a 20:40, while freshman Emma Wright ran a 21:23, making the top 50. The girls' team placed sixth overall.
"Some people had some very good races," Olive said. "We worked together… [W]e did a pretty good job with our mentality."
Senior Colton Olvey was the top finisher on the boys' team placing 18th with a 16:30, a personal record. Senior Kolby Smith was the second Panther to finish at 17:16, making the top 50, while Joseph Muzzillo finished in the top 100 with a 17:43. Overall, the varsity boys' team finished in eighth place.
"This course is special because I've been running on it since I started running," Smith said. "It's a hilly course, but it's still a fast course."
There were many star JV runners this weekend. Junior Caden Strandburg won the JV boys' race with an 18:22. The JV boys' collectively came in fourth. The JV girls' team came in 7th place, with 8th grader Gabriella Roach's 22:08 race placing her second overall. 
Starr's Mill dominated both freshmen races. Diego Ramos won the freshmen boys' event with a 17:56, with Charlie Clem and Bankston Roach placing second and third, respectively. The boys' team won the event overall. The freshmen girls had six Panthers in the top 20, including Kaylee Macoy taking third place with a 22:40. The freshmen girls placed second overall as a team.
"We always have really big goals," Rock said. "[The team's biggest challenge this season is] looking at those goals and staying committed and focusing on those goals and continuing to believe that we're going to reach those goals."
The top 14 runners from each varsity squad will run at the Carrollton Invitational on Sept. 12, while the remaining runners will begin preparations for the Kona Ice Trinity meet held at One Church on Sept. 26.