Back(es) in the hunt
Most recent win lifts team into region's top 4
Earlier this week Starr's Mill softball went into their region game against Northgate needing a win to remain relevant in the region standings. The Lady Panthers walked away with a 3-0 win thanks to the hitting of senior Jolie Lester and the pitching of junior Lilli Backes. 
"I think we all saw our weaknesses come out in the Whitewater game," senior Lauren Flanders said. "We knew what we had to fix, and we came out here, and we did it."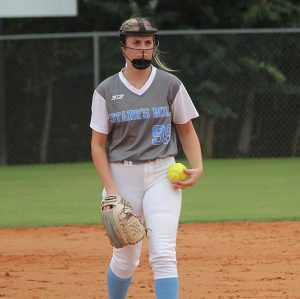 Lester went 2-for-3 with a single, a double, and 3 RBIs. Backes led the defense with a complete game shutout and 16 strikeouts.
"Lilli was hitting her spots real well," head coach Mark Williamson said. "She was changing speeds real well. Defensively, we fielded routine ground balls and caught routine fly balls, which we have not been doing so well."
Backes was strong to begin the game, easily closing out the top of the first. Flanders started the bottom of the inning with a walk and two stolen bases before Lester drove her in with an RBI single. The inning ended with Starr's Mill leading 1-0.
Backes struck out the entire side in the top of the second. 
Northgate started the third inning with a base hit but then defense and strong pitching from Backes shut down any threat. Starr's Mill increased the lead in the bottom of the third thanks to a single and then a stolen base from junior Sydney Blair. Lester added her second RBI of the game when she batted Blair home with a double. 
"We got some timely hitting and we got some bunts down," Williamson said. "That's what we preach all the time, and they know they have to do it, and they did it tonight."
Neither team could muster any offense in the fourth inning.
The top of the fifth included a strikeout, a groundout, and a flyout for Northgate. The bottom of the inning started with a single by Flanders and a base hit for Blair. Flanders scored on a flyout by Lester, her third RBI of the game. 
Strong pitching from Backes closed out the rest of the game, securing the 3-0 win.
"So if we win the rest of our region games, we'll be sitting pretty good to play for the region championship," Backes said. "That's our goal right now."
The win puts the Lady Panthers (8-7 overall, 4-4 region) back in the top four of the region standings.
Starr's Mill was set to host Harris County on Sept. 17, but rain forced that game to be rescheduled for Sept. 30 at 5:30 p.m. The team's next region game is at Northside on Sept. 22.