Turnovers and turnarounds
Starr's Mill splits key region matchups vs. McIntosh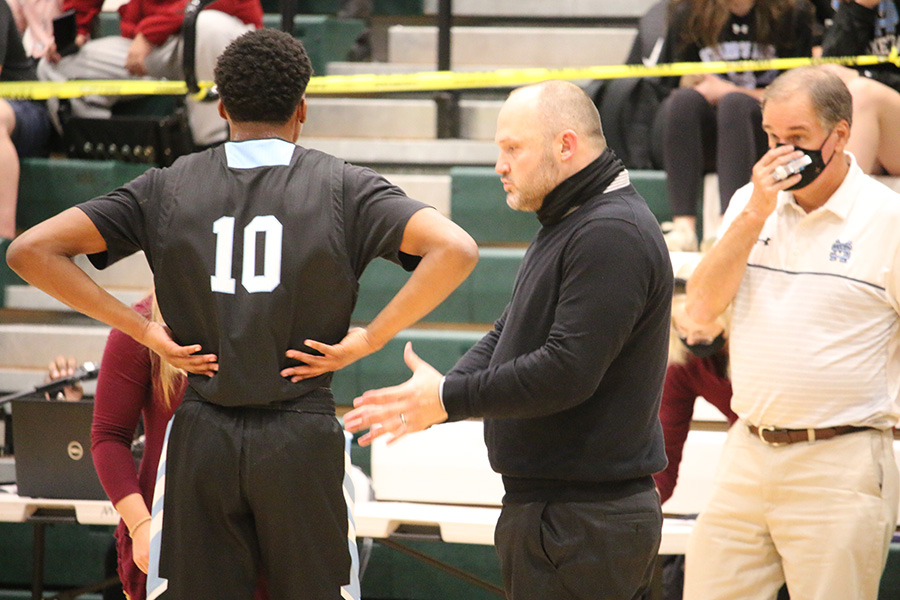 'The Battle of Bubble' always provides great moments and keeps the crowd engaged into the final seconds. Last Thursday's games between Starr's Mill and McIntosh proved that as the girls' won 49-46 and the boys' lost 65-62 in double overtime. 
"
[W]e just found some new ways to lose a basketball game."
— senior Gabe Sands
"I thought we communicated well, but we just found some new ways to lose a basketball game," senior Gabe Sands said. "We screwed ourselves over."
In the boys' game, miscues plagued the Panthers all game. McIntosh was kept within striking distance with two missed dunks early, missed free throws, and a huge technical foul for six men on the court with 1.9 seconds to play in regulation. 
Despite their top player and the night's leading scorer junior Shaun Nichols fouling out in the first overtime, the Chiefs got some great shots from senior Chandler Ernst and senior Burke Berry. Nichols finished the night with 18 points, while Ernst and Burke each contributed 12 points. 
"Our bench has been a strong point all year," head coach Josh Reeves said. "We're down two starters, so therefore our bench was a little shorter tonight. I guess they have to do a better job."
The Panthers' starting five looked balanced across the score sheet. Junior Evan Courville led the team with 17. His four three-pointers in the 2nd helped Starr's Mill carry a 27-18 lead into the half.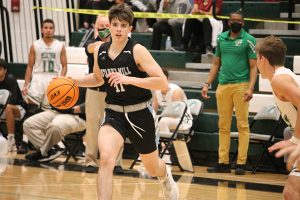 Senior Michael Townsend ended the night with 12 points, senior Gabe Sands and junior Malachi Townsend added 10 points apiece, and senior James Jones scored 6 points.
Aside from a free throw by junior Phillip Schultheis, senior Maurice Massey was the only player off the Starr's Mill bench to score with six points.
"It's nice to see people like [Courville] step up and get some scoring, and it was nice to see James come in and contribute," Reeves said.
Starr's Mill led the entire game until McIntosh tied it at 40 with 6:10 to play in regulation. After that it was all back and forth. In the end, it was Starr's Mill miscues that kept the Chiefs in it and allowed them to defend their home court in the 65-62 win.
"[We have to] not play dumb, not make stupid plays," Courville said. "Other than that, we have to lock in and move on to Griffin."
Starr's Mill followed up Thursday's loss with another overtime loss against Griffin the following day 61-56.
The Starr's Mill girls' team is facing challenges of its own as they work on fundamentals first and foremost. Despite the early season challenges that resulted in a loss to Northside on Dec. 5, they found a way to win over the Lady Chiefs 49-46.
Overall, the Lady Panthers played better defense and saw Increased production from players other than junior Jaclyn Hester.
"Our smaller players have lots of experience, so they've been in these situations," interim coach Tom Conover said. "They already kind of know what to do."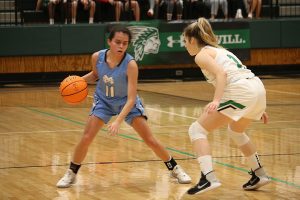 Due to Coach Emily Sweeney being quarantined, Conover assumed coaching duties. 
Hester scored 21 points in the contest. Senior Denise Fajardo contributed 11 points, and senior Lauren Flanders finished with 9 points. 
Junior Keara Collins led McIntosh with 14 points, followed by junior Catherine Bach who contributed 11 points, and freshman Kendall Davis who finished with 10. 
Coach Conover went with a smaller lineup to begin the game. With the speed from the starting five, Starr's Mill jumped out to an early lead. Fajardo came off the bench and quickly scored five points. She finished with eight in the first quarter, and Starr's Mill led 16-10.
"We have a new lineup and everything this year, so we've played together a lot but not as many minutes," Hester said. "I think we're starting to get the hang of it more and more as we play together and games go by." 
In the second quarter, the girls shared the ball more, creating more scoring chances inside. By halftime Starr's Mill held the lead 31-19. 
Starr's Mill continued to play team ball in the third. Senior Mako Sagu scored four points. Meanwhile, McIntosh slowly cut into the lead thanks to senior Courtny Grant. Starr's Mill still led 42-36 going into the final quarter of play. 
"Intensity, just getting them hyped up and stuff, I always want to bring that to the team," Fajardo  said.
The two teams exchanged buckets to begin the fourth as McIntosh slowly inched closer. The Lady Chiefs captured their first lead of the game with 1:57 left to play. 
Ultimately, Starr's Mill secured the win 49-46.
"They know what their advantages are and they know what their weaknesses are," Conover said. "We did a pretty good job of taking advantage of what we knew we could."
The Lady Panthers followed up with a loss Friday night at home versus the Griffin Lady Bears, 52-36.