'Deer in headlights'
Lady Golden Lions untamable for incomplete Lady Panther roster
What do you get when you host one of the best girls soccer programs in the state without two of your strongest offensive weapons? The answer is a 4-0 loss, but also a valuable learning experience for the entire roster.
"[A team like St. Pius X] puts you under so much pressure you don't have time, and that's the big thing — we don't have enough time to take a touch and take a look," head coach John Bowen said. "We have to know where we're going before we get the ball."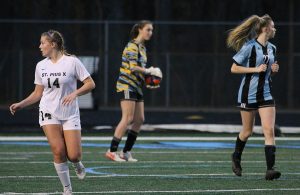 Starr's Mill struggled to hit the ground running. The Lady Panthers only got one shot off in comparison to St. Pius' 24 shots. The Lady Panthers were forced to hold their ground on defense due to pressure from the Lady Golden Lions. They gave up four goals but also racked up 11 saves.
Going into this matchup, the Lady Panthers were missing senior forward Chloe Thompson and senior midfielder Sara Evans, both of which had been valuable assets to their offense. Without those weapons, they struggled to find any sort of offensive footing.
The reigning AAAA champions came into Panther Stadium on a hot streak, starting their season undefeated 2-0, including a big win against Parkview, who were AAAAAAA semifinalists in 2019. In Tuesday night's game, St. Pius suffocated Starr's Mill and kept them in their territory all game long.
"I understand [these younger girls], because I was a freshman too, so I understand what it's like to be nervous, to be scared on the ball," senior midfielder Darby Olive said. "I understand it's difficult, but at the same time, everybody needs you to step up and hold your ground, and that's just what you need to do [as an underclassman] when you're put in that situation."
In the early minutes, both teams fought around midfield for control. About five minutes into the game, a St. Pius player nailed a back post goal from 30 yards out to go up 1-0. From there, the Lady Golden Lions controlled momentum for the rest of the game.
As the first half progressed, the Lady Panthers seldom made it out of their own territory. Because of the lack of offensive production, the girls had to rely on their defense to limit St. Pius as much as possible.
Time continued to tick down, and the Lady Panthers seemed stuck in their territory, barricaded by St. Pius' offensive attack. With eight minutes to go in the half, St. Pius shot the ball like a bullet for their second goal of the game. The time continued to wind down until the half was over, the Lady Panthers trailing 2-0.
"[Against St. Pius, we took away] that we have to stay together, and stay connected as a back line especially," senior captain and centerback Mary Jane Gagliano said. "And then just being able to move off the ball going forward and not just picking the ball, being intentional with our movement and passes."
Going into the second half, the tempo of the game remained the same. Because of the lack of Thomspon and Evans, the Lady Panthers were able to get younger players on the roster some playing time. Despite not being able to get any production, the experience will serve to aid the team as a whole in the long run.
St. Pius continued to dominate and keep the game within Panther territory. They were also able to get two more goals within the half. Once the game ended, St Pius rode off with their third consecutive win to take down Starr's Mill by a score of 4-0.
Last night, Thompson and Evans returned to the team, and the Lady Panthers tied Houston County 1-1. Heading into winter break, their record stands at 2-2-1. With more experiences and a more complete roster moving forward, this season has a lot of hope moving into March.
"[The new girls playing are] like a deer in headlights. They get out there and everything's happening faster than they've ever had it happen before," Bowen said. "[Losing a game like this,] it's just like I told the girls, you learn a lot… You might not look as good record-wise when you play these teams… but the ones that are on the field are learning and growing at a very exponential rate."
Their next game will be back at Panther Stadium at 8 p.m. when they will host Marist on Feb. 23. Their first region game is a road match on March 2 at Northgate.