To find one's footing
Both soccer teams blow out Wildcats, remain unbeaten in region play
Leading up to their meeting, Starr's Mill and Whitewater hosted charity drives for the I58 Mission food bank. The Panthers beat the Wildcats by thousands of pounds in donated goods.
Last Friday, both soccer teams followed suit as both the girls' and boys' teams crushed Whitewater 6-2 and 8-1, respectively.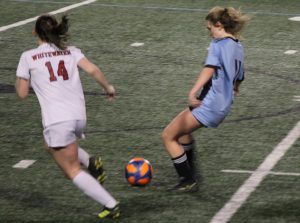 From a harsh loss to St. Pius X to a tie against Marist, the girls' early season has been a rocky one. Slowly but surely, they have put it together, starting with a 3-2 victory against Northgate last Tuesday. Playing Whitewater was another means for them to build off their newfound success.
"It's just a work in progress. We'll have to get a little better as we go," girls' head coach John Bowen said. "We're kind of finding our feet as far as where everybody needs to be connecting with each other… when we see it, when we take the time to pick it out, it's nice to watch."
Early in the game, both teams traded possession, with Whitewater dealing the first blow at the 32-minute mark. Despite that, Starr's Mill slowly gained control, scoring three goals by the end of the half. As the game progressed, the Panthers continued to play more effectively and as a team, contrary to the early season.
Senior Georgia State-commit Chloe Thompson contributed heavily for the Panthers with two goals and three assists. In total, five Panthers scored either a goal or an assist.
"Slowly our hurt players are coming back, and we're starting to get used to playing with each other," Thompson said. "[We have to] just continue to play the way we're playing and play hard every game and just learn how each other play more and build off each other."
On the other hand, the boys' team has been riding high on momentum with an undefeated season so far. Against Whitewater, they continued on their hot streak, completely dominating them en route to a 8-1 victory.
"We're really feeling like we're on top of our game right now," senior captain Brooklyn Muccillo said. "It's good for the other teams in the region to see how well we're doing when we're getting ready to play them also."
Muccillo led the charge with four goals. The Panther offense kept their foot on the gas, breaking through Whitewater's defense. On the opposite side of the ball, the Panther defense stood strong, and senior keeper Andrew Cole was a brick wall.
Once Starr's Mill put the game away, they used the latter portion of the second half to give their younger players some playing time. With that experience for the younger players and the dominant victory, the boys' team has added more fuel to the fire.
"With our big roster, we were able to play everybody," boys' head coach Aaron Buck said. "We've only had a couple of games this year where we haven't been able to go deep into the bench. And I think that's going to help us especially when we get into late April, early May, around the state playoff time, that the boys aren't burned out."
Both teams now improve their region records to 2-0. They will stay at Panther Stadium tomorrow for their next region match against the Harris County Tigers. The boys will play at 6 p.m., and the girls will play at 8 p.m.