Varsity lacrosse defeats McIntosh, wins area championship
The Starr's Mill Boys varsity lacrosse team went into last Thursday's game with the hopes of beating McIntosh for the fifth time in a row. They did just that, securing the area championship with a 6-3 win.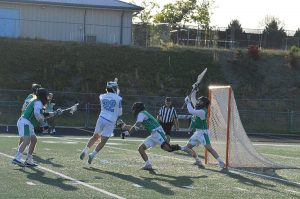 "It's good to win ugly sometimes, but I think we've lost a little confidence offensively," head coach Jeff Schmidlkofer said. "I think we were pressing a little bit, and we're going to have to definitely get it fixed for the playoffs.
The overall score was lower than what the Panthers are used to, but team captains Luke Rusterrucci and Gabe Lopez led the team with two goals each.
Starr's Mill began the game off to a great start by winning the face off and maintaining possession. Senior Luke Rusterrucci posted the first goal on the scoreboard, and was shortly followed by a goal by junior Barrett Schmidlkofer. The game became more and more physical as the quarter progressed, and McIntosh ended up tying the game 2-2 by the end of the 1st. 
"I think [we needed to] just run our offense. The shot selection and consistency can obviously get a little better," Rusterrucci said. "If we shoot it right at him obviously he's going to make a lot of easy saves, but if we work hard then I think we will be fine," Rusterrucci said.
Senior Gabe Lopez scored shortly after the second quarter started, but the McIntosh goalie did not let anything else by him as the quarter progressed. It was not until 30 seconds remained in the half that Starr's Mill scored. It was Rusterrucci again, giving the Panthers a 4-2 lead at the break.
The score quickly escalated to 6-2 in the 3rd quarter with goals by Lopez and senior Shane Kelly. The Starr's Mill defense and freshman goalie Seth Maxwell prevented McIntosh from scoring for more than 30 consecutive minutes, but eventually sophomore Matthew Johnfore cut into the lead. It was too little, too late as Starr's Mill won 6-3.
When asked what the team's defense can do differently to prevent the other team from scoring, Maxwell said, "Definitely talk more and [have] more communication, and be aware of each other."
Although the six goals were enough for the Panthers to defeat McIntosh and win the area championship, Starr's Mill came into the game averaging 13 goals per game. Thursday's game was only the fourth time all season the Panthers did not score at least 10 goals.
We'll play really [well], and then we'll drop to [our opponent's] level, which is a concern," Jeff Schmidlkofer said "We [have] next week and then the following week we start the playoffs, so it's a concern for sure."
The Panthers play two more games this week before hosting the first round of playoffs next week.