Broderick, Hepler push Lady Panthers past Paladins and into quarterfinals
Down 3-6 to Fellowship Christian halfway through the first half, the Lady Panthers looked to team veterans to mount a comeback. Starr's Mill went on to outscore the visiting Paladins 17-6 and secure a spot in the A-AAAAA GHSA state quarterfinals.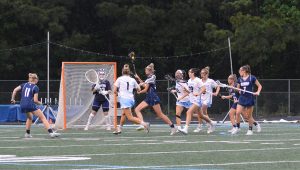 Fighting through three separate lightning delays, the Lady Panthers looked to the leadership of four upperclassmen to capture the win. Senior Jacqueline Broderick and junior Emma Grace Hepler tallied six goals apiece. Senior Jess DeLuca and junior Hannah Leon each added four goals.
"We started off slow, but we came together as a team," senior Jacqueline Broderick said. "[We] pulled through and had a great win tonight."
After a delayed start junior Hannah Leon kick-started the Panther offense putting the score to 1-0. DeLuca and Hepler also contributed to put the Panthers up 3-1 within the first five minutes. 
Fellowship responded with a 5-0 run, sparked by senior Lexi Menna, bringing the Paladins in front 6-3. Broderick, Hepler, and Leon help speed up the Panther offense each adding goals before the break, putting the Panthers in front 8-7. 
The Panthers came out a new team in the second half, outscoring Fellowship 12-5. Panther defense managed to keep Fellowship from scoring for 11 minutes during the half. 
Hepler led the team grabbing six draw controls, and scoring four goals during the second half. Broderick and DeLuca each tallied three goals throughout the second half.
The Lady Panthers ball movement and shot selection was too much for the Paladins to handle, resulting in the 20-12 victory.
"[This win was] absolutely huge," head coach Mary Lehman said. "Our girls fought back from our deficit and we never looked back."
The win over Fellowship helped boost the Panthers to 16-2-1 on the season. The Lady Panthers advance to the quarterfinals of the GHSA State Playoffs and will host either The Wesleyan School or Pace Academy later this week.