Guess who's back
Girls lacrosse team advances to state championship for third straight time
Starr's Mill girls lacrosse made their first trip to the state championship three years ago. They have not missed the title game since. 
The team went up against scrappy Northview Titans who looked to play spoiler. In a hard fought victory, the Lady Panthers won 12-11, punching their ticket for the third year in a row.
"
It's incredible how these kids dial it in throughout an entire game. We have come back against every single deficit we've had the entire season."
— head coach Mary Lehman
"It's almost surreal to me," head coach Mary Lehman said. "There's something very special about this team. They don't take anything for granted. They capitalize on every single moment they have… It's incredible how these kids dial it in throughout an entire game. We have come back against every single deficit we've had the entire season. I can't ask for any more."
Three Lady Panthers scored hat tricks against Northview — senior midfielders Jacqueline Broderick, Jessica DeLuca, and Addie McDaniel. Junior midfielder Emma Grace Hepler also scored two, and sophomore attack Jackson McDaniel and junior midfielder Mackenzie Jadick scored one goal apiece. Senior defender Lauren Flanders, Broderick, and McDaniel all had one assist.
As a team, the Lady Panthers controlled 19 ground balls. Defensively, the team caused 12 turnovers, with senior defender Lexi Santiago causing four herself. Junior attacker Hannah Leon, who played 19 draws for the Lady Panthers, had three draw controls and eight draw wins.
"I knew that I needed to step up tonight. I knew it was going to be a hard game," Addie McDaniel said. "I wanted to be a leader for our team and show that we need to step up for these hard games… We need everyone to play to their full potential and full effort. I hope I showed my team that that's what we need."
Within the first minute of play, Addie McDaniel slung the first goal of the game. Two minutes later, Broderick added on to the lead with another goal. A minute later Northview tacked on two more goals within two minutes to tie the game. After an eight minute scoring drought, junior attacker Holyn Trautwein put Northview in the lead. 
At the nine-minute mark, Broderick answered back with two goals within 12 seconds, which Deluca added onto seconds later to increase their lead to two goals. At the seven-minute mark, junior midfielder Grace Kim shortened the gap, though Leon scored again to keep Northview at bay. The Titans fought back with two goals within the last two minutes to tie the game 6-6 at the end of the first half.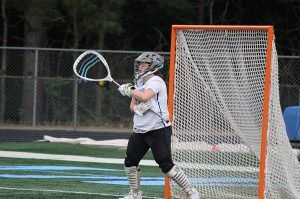 "We definitely had to put in the work. These girls are not taking anything for granted. They really had to claw their way through the entire game," Lehman said. "We want wins like this because it makes us stronger so that when we do go up against our opponent in the state championship we'll be prepared."
The two teams traded goals within the first two minutes. Then Trautwein and Kim took back the lead by two goals by the 19-minute mark to go up 9-7. For six minutes, Starr's Mill struggled to get on the board. Until Addie McDaniel finally scored again at the 13-minute mark. Less than thirty seconds later, Hepler slung another goal to tie the game 9-9.
Addie McDaniel earned a hat trick with her third goal of the night one minute later. The teams would trade goals again within 30 seconds of each other, making the score 11-10 moving into the final four minutes. DeLuca earned her hat trick with roughly three minutes left to extend the Lady Panther lead once again to two, the score now 12-10 with two minutes of play left.
Freshman attacker Jodie Kim scored a goal for Northview within the final 80 seconds. As the clock ran down within the final minute, Starr's Mill was close to victory, but the Titans would not let go. Through the final minute they pushed hard into Panther territory, looking for a goal.
"They were able to find passes through our defense. Our defense played strong but they were able to find their way through," senior goalie Kaitlyn Donovan said. "That's something we'll have to work out this week." 
Northview was not going to get past Donovan who had eights saves and three clears in the contest. Despite the Titans pushing into the goal, Donovan and the defense did not waver. With Northview having 2.9 seconds after a time out, they took a shot and missed. The buzzer went off, and the Panthers stood victorious, 12-11.
Starr's Mill advances to the state championship for the third consecutive year, They will be facing the Blessed Trinity Lady Titans once again. In 2018, the Lady Panthers were defeated 15-7. In 2019, the Lady Panthers bested Blessed Trinity 11-8 to win their first state title. On Saturday, the teams will meet at Denmark High School in Alpharetta to settle the score. The first draw is set for 10 a.m.