Redemption
Lady Panthers defeat Blessed Trinity, win state championship
Blessed Trinity had loads of confidence going into the GHSA A-AAAAA girls' lacrosse state championship game. And rightfully so. They had been the final team standing for three years in a row. It was their turn to run the table, as many teams in northern Georgia have done before.
"
We've been practicing to beat Blessed Trinity all season long."
— head coach Mary Lehman
No team south of I-20 had ever even won a state championship in lacrosse, boys or girls, until last Saturday.
After a 15-7 loss in the state championship last year, Starr's Mill vowed to return to the final round of the playoffs and avenge their loss to the Lady Titans. This past weekend, they redeemed themselves with an 11-8 win that ended a series of consecutive championships from Blessed Trinity.
"We've been practicing to beat Blessed Trinity all season long," head coach Mary Lehman said. "We knew that's what we needed to do. We knew we were going to be back."
Junior Ryanne King, who struggled against the Lady Titan defense last year, scored five goals for the Lady Panthers. Seniors Alyssa Angelo and Ansley Wallace, as well as freshman Emma Grace Hepler, each scored two goals for the Mill.
Junior goalie Karlee Jenks held an offense that had scored double-digit goals in five straight games to only eight goals. Timely saves prevented a Blessed Trinity comeback as Starr's Mill led for 46 of the 50 minutes.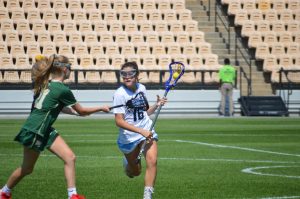 The Lady Titans were led by senior Kaley Attaway and junior Kelly Scott. Attaway scored three goals while Scott scored five times. Blessed Trinity struggled against a stout Panther defense determined for revenge. There weren't many easy shots for the defending champs, allowing for more saves by Jenks.
"[Jenks] wanted revenge for what happened last year," King said. "We're so proud of her. She really kept us in the game."
Nerves plagued the Starr's Mill sideline after Attaway struck the back of the net less than a minute into the game. But unlike last season, the Lady Panthers made sure to pounce early in the game. King answered with a goal just 17 seconds later, and Hepler and Wallace each scored in the next two minutes.
The run continued with goals from Hepler, Wallace, King, and Angelo. With 6:29 left in the first half, Starr's Mill led 7-1.
Scott shifted the momentum with three consecutive goals, bringing the score to 7-4. King countered with another goal with under a minute left, but Attaway negated it with her second goal of the game. At halftime, Starr's Mill led 8-5.
"
We couldn't be naive and think they wouldn't put numbers on us, but we learned from earlier games that you can't let one goal affect you."
— senior Alyssa Angelo
"We knew coming into it they were going to score," Angelo said. "We couldn't be naive and think they wouldn't put numbers on us, but we learned from earlier games that you can't let one goal affect you."
To start the second half, Attaway and Angelo traded goals to put the score at 9-6. At this point, the Lady Panthers started to slow down and chew clock. A lack of pressure allowed the Mill to waste away four minutes before King struck again with 14 minutes left in the contest.
Down four, the Lady Titans turned to Scott for offense. She got the ball and attacked, scoring for the fourth time. However, Blessed Trinity lost eight minutes of clock time before they cut the deficit to 10-7. The Mill continued to control possession until King delivered a dagger with 3:51 left on the clock. Scott scored once more, but it wasn't enough as Starr's Mill won the first ever lacrosse championship in school history.
"I think every girl needs to understand and realize this is just the beginning," Wallace said. "They have to keep our legacy up. Just because the seniors are leaving doesn't mean it's over."
The Lady Panthers not only won the first state lacrosse championship for Fayette County as a whole, they made a statement for every lacrosse program south of I-20 and every public school that competes in the tournament. The state playoffs had been dominated by private schools for years, but Starr's Mill looks that part of a pioneer in changing high school lacrosse.
Finishing with an 18-4 record, the book is closed on a historic season for the Mill. However, this is just chapter one for a program that has been on the rise over the past few years. With only five seniors graduating, the team will stay mostly intact and look to defend their throne next season.
Leave a Comment