Panthers strand two twice, lose 2-0 to Northgate
After a 6-1 loss to Whitewater last week, the Panthers looked for a bounce-back win in Monday's rescheduled contest versus Northgate. Despite multiple chances to overcome a two-run deficit, Starr's Mill could not capitalize.
"It's all about timely hitting," head varsity softball coach Peyton Dean said. "We just didn't come up with the big hits when we needed them."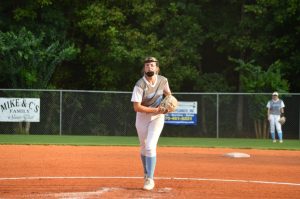 Senior pitcher Lilli Backes gave up two runs, five hits, and three walks. Northgate, however, gave up zero runs, three hits, and one walk, with eleven strikeouts.
Neither team mustered any offense in the first two innings. Starr's Mill could not get one past Northgate's pitcher and the Vikings only managed to get to first base once via a walk. 
"You just take it differently every day, one day at a time," Dean said. "You can't look too far ahead."
In the third inning Northgate stepped up and got on the board with a pair of runs. Backes walked the second batter of the inning. A sacrifice hit and a steal moved the runner to third base. Then a double scored one run, followed by a single that scored another. The Vikings took a 2-0 lead into the bottom of the inning.
Starr's Mill managed two runners on base in the bottom of the fourth via a single by junior Olivia Letson and a walk by senior Julia Cliff, but neither scored. 
The Lady Panthers had a chance to tie the game again in the bottom of the fifth. Senior Ashley Sikes hit a single and a sacrifice hit by sophomore Hope Delaney moved her to second. Quina's single and steal put runners on second and third. The inning ended with both runners stranded.
Five of the final six Starr's Mill batters struck out, and Northgate traveled home with a 2-0 win.
"We work on whatever we made errors on tonight, and we transfer it into tomorrow and get our minds right," Quina said.
Despite a home game loss, the Panthers traveled to Northside-Columbus the next night and won 7-2. 
Starr's Mill plays a pair of games Friday in Monroe as part of the Titan Warrior Classic.