Caught off guard
Panthers underestimate Union Grove, lose 21-14
Starr's Mill came into Friday night's game riding high after defeating Newnan and then blowing out Mt. Zion. However, a 21-14 loss to Union Grove has given the Panthers a new perspective.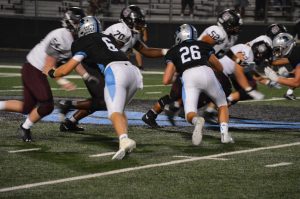 "In a lot of ways this might be what this team needed because we were kind of on cruise control the first two games and we really weren't tested at all," head coach Chad Phillips said. "Now we've maybe exposed some things we've got to fix, and we can go back and fix them and really get better at technique and our effort."
The Union Grove defense held the Panthers to 94 yards on the ground. This forced Starr's Mill to turn to the pass game. Junior William Yarbrough completed 7 of his 12 passes for 78 yards and a touchdown. He also threw one interception. Freshman Logan Iagawa completed 5 of his 9 passes for 48 yards, but threw two interceptions. 
"We thought we could come out here and there going to be just like the last team, almost like a JV team, but they really weren't," junior Josh Phifer said. "They came out and they whooped our butts up front."
For Union Grove, Amari Lanier rushed 20 for 128 yards and scored a touchdown. Jordan Fullwood rushed 15 for 89 yards and scored a touchdown. The Wolverines carried the ball 46 times, racking up 250 yards.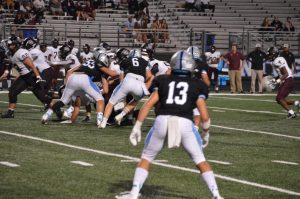 Union Grove jumped out to a 14-0 lead after a pair of rushing touchdowns from Fullwood and Griffin. Quinton Griffin added another touchdown on a 42-yard punt return before Starr's Mill would respond. 
"We possibly got a little bit complacent last week and underestimated the skill they had. Union Grove had some really good running backs and they really did a good job coaching up against our defense, and made some big plays." Phillips said. "We didn't play to our capability or our potential."
Turnovers halted any momentum the Panthers had. A touchdown to end the first half narrowed the score to 21-7. In the second half, Starr's Mill only possessed the ball four times, and two of those possessions ended with interceptions.
Senior Marc Stampley scored on an 8-yard pass from Yarbrough with less than two minutes to play in the fourth quarter, but it was too little, too late. The Wolverines captured the win 21-14.
"We work harder probably than anybody in the state and to come out here and play flat just doesn't sit well with any of us," senior captain Barrett Schmidlkofer said. "All we can do is work this week and get a win against Fayette rival Sandy Creek."
The Panthers travel to Sandy Creek this Friday looking to rebound prior to region play. Kickoff is set for 7:30 pm.