Change of course
Whitewater holds Panthers scoreless in second half, claims region's top spot with 16-13 win
Starr's Mill traveled to Whitewater last Friday with the top spot in the region on the line. Panther turnovers and miscues in the second half helped the Wildcats win 16-13. 
"We're going to take this film down and really evaluate this film, make some adjustments, correct a lot of mistakes," head coach Chad Phillips said. "Against quality opponents you can't turn the ball over like we did."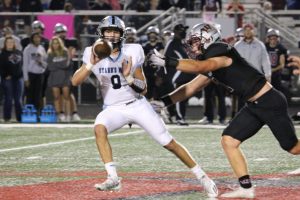 The Starr's Mill defense held Whitewater with strong defense in the first half. Meanwhile, the Panther offense stayed true to form and ran the ball. In the second half, however, it was Whitewater's defense holding Starr's Mill scoreless while protecting the ball and capitalizing off their own possessions.
"I feel like these games, they just help everybody come back together and refocus on the objective," senior Brandon Mathis said. "I still feel like we have a big chance of going far, deep into playoffs." 
Starr's Mill accumulated 236 yards of total offense, rushing 45 times for 231 yards, and completing one of six passes for five yards. Junior William Yarbrough threw two interceptions. Mathis rushed 10 times  for 93 yards and a touchdown, along with junior Greigh Joseph who ran the ball 14 times for 65 yards and a touchdown. 
The Panther defense only allowed one touchdown in the first half. However, after being forced to punt on their first possession of the second half, the Wildcats kicked three field goals on their next three possessions.. 
"We're going to practice hard all week, get ready for homecoming, get ready for senior night, get ready for the playoffs," senior Colin Bartek said. 
Whitewater had 204 yards of total offense. The team rushed 36 times for 131 yards and completed three of six passes for 73 yards. TJ Hartley was a perfect three-for-three on field goal attempts for Whitewater, connecting from 31, 40, and 37 yards.
"We'll do what we do, we'll fix things in film sessions and out at practice, and they'll play hard," Phillips said. "We hope to see everybody at Starr's Mill High School come out to the homecoming game and celebrate those festivities and hopefully watch us get this thing turned back around."
Whitewater is now 4-0 in region, putting them in first place with two region games left in the regular season. Starr's Mill, 3-1 in region, is in second place with games remaining against McIntosh and Northside. 
Starr's Mill hosts McIntosh for their homecoming game this Friday. Kickoff is set for 7:30 p.m. with homecoming court announced during halftime.