Formed for the future
Lady Panther season ends in first round of region tournament
Despite many attempts to score, the Lady Panthers could not capitalize and mount a comeback versus the McIntosh Lady Chiefs in the first round of the region tournament. 
The season ended Monday night in a 52-40 loss, leaving the team with a 6-17 overall record and saying goodbye to four seniors.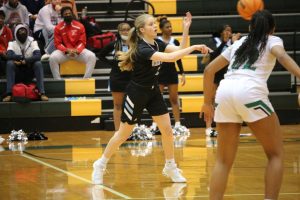 Time will tell how the younger players will step up and lead the Lady Panthers for their next season.
"I have no doubt that they're going to try and put in the work in the off season so the feeling of today doesn't happen again," head girls varsity coach Emily Sweeney said. "As soon as the smoke settles, they're going to be trying to figure out how they can get back in the gym."
Sophomore Brooke Godown led the Lady Panthers in scoring with 18 points total. Other high scorers include senior Jaclyn Hester with 14 points. 
Sophomore Kendall Davis and senior Keara Collins led the McIntosh Lady Chiefs in scoring with 18 points and 15 points, respectively. Other high scorers included senior Bella Duiser with eight points.
"It was all really exciting," Hester said. "I'm glad that I got to play for four years. I met a lot of people."
In the beginning of the first half, both teams seemed evenly matched. However, in the end of the first quarter, with two three-point baskets, the McIntosh Lady Chiefs were able to pull ahead. 
Going into the second quarter, the Starr's Mill Lady Panthers were unable to make any baskets which allowed the Lady Chiefs to maintain a comfortable lead. McIntosh led 27-18 at the half. 
"
We took a little bit more punches than we should have, but they're going to be better formed for the future."
— head coach Emily Sweeney
Going into the second half, the Lady Panthers went on an 8-2 run to narrow the Lady Chief lead to three points. However, it was not enough and the Lady Chiefs pushed their lead to 11 points. 
A late three-point basket by sophomore Jackson McDaniel managed to narrow the gap to seven points, ending the third quarter 44-37.
"We had a young team so they had to learn the ropes," Sweeney said. "We took a little bit more punches than we should have, but they're going to be better formed for the future."
McIntosh was quick to follow up each Starr's Mill basket in the fourth quarter, reducing any chance of a late-game Lady Panther comeback. In the end, Collins and Davis took over scoring for the Lady Chiefs and advanced on a 52-40 win.
The Lady Panther season ends with four seniors leaving, including all-time leading scorer Jaclyn Hester. Other seniors include Anna Kirby, Kalin Blinstrub, and Anna-Lynne Ramsey.
"[The seniors are] a special group of kids. Off the basketball court, they're just a lot of fun," Sweeney said. "I'm going to miss them tremendously, but I hope that they do well in anything that they do."
Due to new region alignments set in place beginning in the fall of 2022, time will tell what next year's season will look like. For now it seems that the Lady Panthers will be led by sophomores Brooke Herdman and Brooke Godown, who will have to fill the void left by Hester and her fellow seniors.