Three cheers for JV girls soccer
JV girls soccer maintained their undefeated season with a 3-0 over McIntosh last week.
When asked about his goals for this year's team, head coach Mike Meyer said he wants to "keep it light and have a good time." This approach has certainly paid off, as the team boasts a 10-0-1 record after last Thursday's win.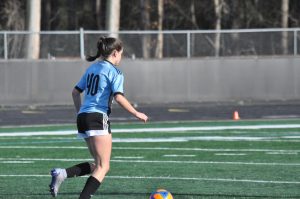 Eighth grader Kendra Ivaska led the Lady Panthers with two goals. Keeper Ella Strickland earned the shutout.
"Communication is great," Meyer said. "I just treat everybody the same and it all works out."
Within the first three minutes of the game, eighth grader Kendra Ivaska scored a goal, heating up the match. The energy stayed high for most of the first half, and freshman goalie Ella Strickland stopped every attempt at a goal from the opposing team. 
Strong play on both sides of the pitch helped Starr's Mill maintain a 1-0 lead at the half.
"[Starting the match with the first points] definitely put us in a better position, and helped us get more encouraged," Ivaska said. "It definitely made a difference in our favor."
Starting off the second half strong, Ivaska and sophomore Julia Olvera scored one goal each for Starr's Mill. As the game progressed, the players got more aggressive but the Panthers continued with consistent pressure. McIntosh struggled for control as Starr's Mill won 3-0.
The JV girls team capped an undefeated season (11-0-1) after beating Woodward 8-0 earlier this week.