Region rebound with Ryan's homerun
Starr's Mill baseball gained a slight edge in the region standings with a 9-4 victory over McIntosh Tuesday night.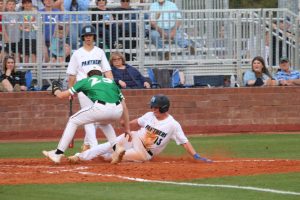 "I feel like we have definitely grown so far," sophomore Bo Walker said. "With this win, it's definitely big. It's a confidence booster for us, and I'm looking forward to the rest of the season."
The Panthers are now one game ahead of the Chiefs for the No. 3 seed in Region 2-AAAAA.
Leading hitters included Walker with a hit and two walks. He also pitched two scoreless innings.  Senior Alex Ukleja and sophomore Charlie Clem each had two hits, while senior Ben Moseley contributed two hits and two RBIs. Sophomore Jack Ryan broke the lead wide open with a three-run homerun in the third inning.  
"It's tough when you lose Josh and Evan, two of our best players, but the guys that are out there have been doing an unbelievable job," head coach Brent Moseley said.
After a scoreless top of the first inning by the Chiefs, Starr's Mill took the lead when Ukleja batted in Walker.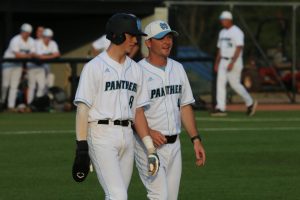 The game stayed close with McIntosh tying it in the top of the second and Starr's Mill responding to go up 2-1 in the bottom of the inning. The Chiefs took a 3-2 into the bottom of the third before Ryan's three-run homerun put Starr's Mill on top for good.
"We're trying our best to get better every single day," Ryan said. "And I think we have more potential than where we're at right now."
Several catching errors allowed Starr's Mill to increase the lead to 9-3 in the bottom of the fifth.  
The Chiefs attempted a comeback in the top of the seventh, but could only manage a single run, ending the game 9-4 in favor of the Panthers. . 
"It's definitely going to be challenging playing [at McIntosh] with their home field, and our history playing there hasn't been too well," Walker said. "But I mean I think that we can do it, I think that we can get it done."
Starr's Mill traveled to McIntosh Thursday night and won 6-3. They host the Chiefs tonight at 7 p.m.