Cardoza creates chaos, Panthers advance
Starr's Mill hosted Holy Innocents Episcopal in the first round of playoffs on Thursday night, winning 12-7.
Sophomore Andersen Cardoza carried the scoring and led with five goals, two of which were unassisted. Senior Charlie Crockett followed behind with two goals and one assist along with sophomore Charles Cochran with two goals.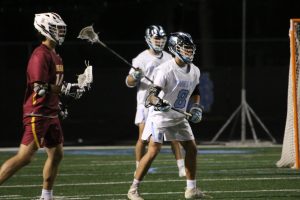 "I think it's important to keep a level head because especially with our team it's all about our team play," senior Colin Smith said. "And it's important we just work the ball around and play as a team definitely."
Sophomore Walton Sullivan led Holy Innocents with two goals unassisted. Senior Warner Fentress, junior Charles Mooney, and sophomore Brantley Crossfield all scored one goal unassisted. 
The Panthers came out with tactical offense, and were able to easily gain possession against the Bears. When halftime approached Holy Innocents began to increase their energy, causing an intense battle until the buzzer ended the first half with Starr's Mill leading 3-1. 
Frustration sparked in the Bears heading into the second half generating penalties on both teams. Starr's Mill managed to keep a level head and maintain the lead. They would close out the victory 8-4. 
"Now if we lose, you're done and we want to win and we want to win a state championship," senior Bennett Via said. "So we just don't want to lose."
Starr's Mill hosts St. Pius tonight at 6:30 p.m. in the second round of playoffs. 
"You better execute, and if not then you know we will be taking their equipment up, so we better execute," head coach Jeff Schmidlkofer said.