Boys lacrosse falls in first final four appearance
After advancing to the state semifinals for the first time in school history, Starr's Mill boys lacrosse hosted undefeated Lovett High School last Wednesday in an intense battle that lasted until the final quarter. The visiting Lions maintained their flawless season after a 11-6 win.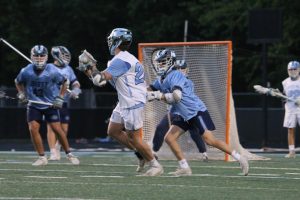 Sophomore Taylor Ratinaud led the Panther scoring with four goals, two of which were unassisted. Seniors Charlie Crockett and Bennett Via followed behind with two goals each. 
"With the implementation of our new offense, we've been a lot more successful incorporating more shooters and more players on our team," senior Jack Saylor said. "In the past we just used our main two players like Luke Rusterucci and Gabe Lopez, but now we use more of everyone, and there's more people scoring every game."
Senior William Overly led Lovett's scoring with five goals, followed by senior Garrette Kelly trailing close behind with four goals. 
Though the Panthers captured the first two goals, the Lions made a comeback and went into the second quarter leading 4-3. Throughout the second quarter Lovett took a three-point lead after the Panthers lost momentum. The first half ended 7-4.
"We want the underclassmen to beat what we did. We want them to get a game further and then the next year win it," senior Barrett Schmidlkofer said. "I mean that's the goal we'll always look back and look at the other kids that have come through here and see if they win a ring, something we couldn't do."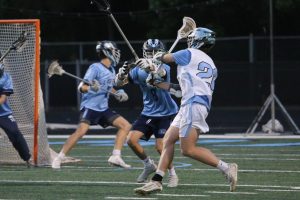 Despite being down to begin the third quarter, the Panthers came out with great energy. Lovett matched the energy and increased their lead to 9-5. 
The Lion defense prevented any chance of a Starr's Mill comeback in the final quarter. After two goals by Lovett and one from the Panthers, the game ended with the Lions up 11-6. 
"Sometimes you got to give credit where credit is due, and [Lovett is] good," head coach Jeff Schmidlkofer said. "They have a lot of weapons, and we executed the game plan. It was just that they made one or two or three plays more than we did."
After going undefeated in region play (5-0), Starr's Mill ended the season 13-9 overall. 
Lovett went on to seal an undefeated season, defeating Westminster 14-7 in the state championship May 14.