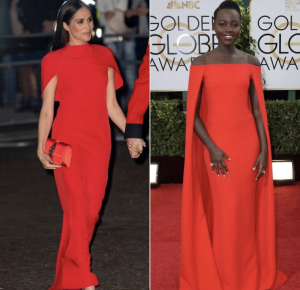 Although both Meghan Markle and Lupita Nyongó rock the iconic red dress look, I prefer the way Meghan Markle put a twist on the classic style. Her gown's high neckline and cape-like shoulders exude a regal air fitting for the former Duchess of Sussex. Also, Markle takes the red look all the way, pairing the Safiyaa dress with a vibrant clutch and pair of heels.
Sofia Vergara spruces up this sundress with a tall pair of heels and a matching handbag. While this look is viable, the further relaxed style of Brooke Burke is more my fancy. This dress radiates summer vibes, and Burke ties the look together with a pair of vivid blue heeled sandals.

The two Elizabeths are very matchy-matchy and both radiant in their one-shoulder cropped jumpsuits, but I believe Chambers' look rivals that of Banks. Chambers has kept her style neater with simple black heels, while Banks adds bright red accents, which distract from the lovely pattern of her jumpsuit.
Malin Akerman and Alison Brie twin in a white sherpa coat, and they both pair it with similar white blouses and a pair of blue jeans. However,a few subtle details in Akerman's outfit make all the difference. Akerman's top is a classy button-up whose elegant collar emphasizes that of the sherpa coat, which is the star of the ensemble. Also, her blue jeans are lower-waisted than those in Brie's look, which gives a more relaxed and comfortable impression.

Neither Selma Blair nor Kate Walsh can forgo a pocket-pose to showcase this essential attribute of their identical tea-length dresses. Each lady sports similar black heels and silver-toned jewelry, but the genius of Blair's look is in her hairdo. The dark waves contrast with the strict cut of her dress, while Walsh goes for a more severe style with a sleek parted bun.