While these beautiful red dresses look amazing on both women, Lupita Nyongó styled her Ralph Lauren dress better than Megan Markle styled her Safiyaa dress. The way she draped it off her shoulders helped to draw attention to her collar bone and really added a nice feature. Both girls had a cape on the dress, but Nyongó's went all the way to the floor giving off more of a bodycon look.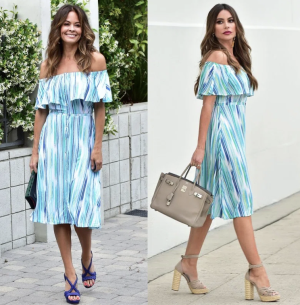 Sophia Vergara and Brooke Burke both rocked these casual sundresses, but the way Vergara styled it was better. She kept it nice and classic while still adding her own personal touch by matching her purse to her tan shoes. Burke went for more of a dramatic style matching the dress to striking blue heels that just took away from the dress. 
I guess this Alice+Olivia striped jumper is very popular among people named Elizabeth, with both Elizabeth Chambers and Elizabeth Banks wearing it out and about. While both Elizabeths looked beautiful in the jumper, Banks wore it best. She styled it with red accents that beautifully complimented her skin tone and added a much-needed pop of color, giving the look a nice personal touch. 

This Old Navy sherpa coat is an absolutely amazing piece that both Allison Brie and Malin Akerman styled stunningly. I prefer the way Brie styled the sherpa due to how she styled it with a darker pair of jeans and dark brown boots that complimented the colors of the sherpa. She also rocked a small on-the-shoulder bag that tied the outfit together. 
Selma Blair and Kate Walsh both wore this beautiful Christian Siriano dress and both pulled it off beautifully to the point it was incredibly hard to decide a favorite. In the end, I am partial to Walsh's version of the outfit. She matched her heels to a shining belt that not only cinch the waist and gave it more of an A-line skirt, but also helped it look more like she was wearing the dress, not like the dress was wearing her.