Harper Lee's second novel gets students, teachers excited
Many of her fans pre-order sequel set for July release
For fifty-five years, American novelist Harper Lee has captivated readers worldwide with her novel "To Kill a Mockingbird." Now fans of the novel eagerly await its sequel "Go Set a Watchman" due to be released July 14.
The novel, published in 1960, has long been a popular staple in high school English classes.
Each year, 9th-graders read Lee's novel. "This book has been popular for longer than I've been working here. We read it at my high school too," said English teacher Ashley Collins, who graduated from Sandy Creek in 2000.
Lee's second novel came as a surprise to most people because, according to an interview with the New York Times, Lee said she would most likely "never publish another book" despite decades-long rumors of a possible sequel.

"I think the fact that Harper Lee wrote another book is incredible," said junior Lydia Powell, a member of  the Ex Libris book club. "I loved 'To Kill a Mockingbird' because it really made me think about how lucky I have it."
The original story is set in Maycomb, Ala., in the 1930s, and the narrator is a precocious young girl named Jean-Louise "Scout" Finch. Her father Atticus is a lawyer who represents an African-American man wrongfully accused by the town drunk, Bob Ewell, of assaulting his daughter Mayella. "Go Set a Watchman" takes place 20 years after the events in "To Kill a Mockingbird," and Scout is a grown woman who returns to Maycomb to visit Atticus.
News of the upcoming novel has also caught the attention of students and teachers. "I'm looking forward to seeing Scout as a young woman," said English teacher Tara Burnette, who also teaches 9th grade. "I'm also excited to experience reading another novel by Harper Lee."
Although "Go Set a Watchman" will be released long after its predecessor, Lee actually wrote "Go Set a Watchman" before "To Kill a Mockingbird," according to a recent story with Al-Jazeera. The story's manuscript went missing for several years, and many fans believed the sequel to be a hoax until Lee's lawyer and friend Tonja Carter discovered the manuscript last fall.
Senior Lexi Nails looks forward to the novel's release. "I really liked 'To Kill a Mockingbird' because of its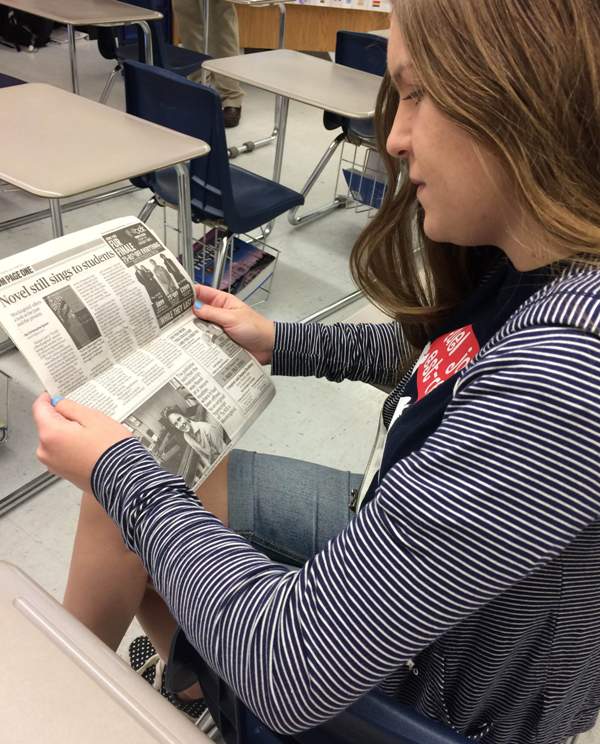 reflections on society," she said. "There was the obvious racism and harming of the innocent, but I also really liked some of the satirical elements like when Scout's teacher scolds her for being too smart when she reads more than she has to."
History teacher Walt Ellison said the lessons taught in "To Kill a Mockingbird" are just as applicable today as they were 50 years ago. "In the story, Atticus tells his son Jem that it's truly a sin to kill a mockingbird because they do nothing but make music for us," he said. "I think this is relevant in high school because people still get picked on no matter how much they do for others just because they're considered weak. I feel like that's the same reason anyone would kill a mockingbird."
Within a week after the announcement, "Go Set a Watchman" topped the charts in pre-sales on Amazon and pre-sold more than 1,000 copies at Books-A-Million. Most pre-orders came from Lee's home state of Alabama.
Senior Mira Bookman said she plans to pre-order the novel because she enjoyed reading it as a freshman. "My favorite part is the trial scene," she said."I liked how Atticus was the only one to stand up against the town's prejudice."
Collins said she believes a sequel is necessary because "To Kill a Mockingbird" ends without any further insight about what happens to the characters. "I've always had mixed feelings about the end of the novel because I feel like there's no real indication about the characters' lives after Bob Ewell's death," she said. "It just ends with Jem and Scout going to sleep."
Lee, who is 88 years old and lives in an assisted living facility in Monroeville, Ala., told interviewers that she couldn't be happier with readers' reactions to "Go Set a Watchman." Although it won't be released until the summer, her upcoming novel has stirred excitement across the nation.