Coffee filters the benefits from consequences
Economics teacher Mark DeCourcy says his day is just not the same without his caffeinated companion. "I drink a pot-and-a-half to two pots of coffee a day, depending on how cold it is or how tired I am," he said.
DeCourcy even supplies coffee for the entire Social Studies department, allowing teachers to come to his classroom and take a mugful as needed. He said this is how he "shares his love" for coffee with others. "I will love coffee always," DeCourcy said. "Life is meaningless without it."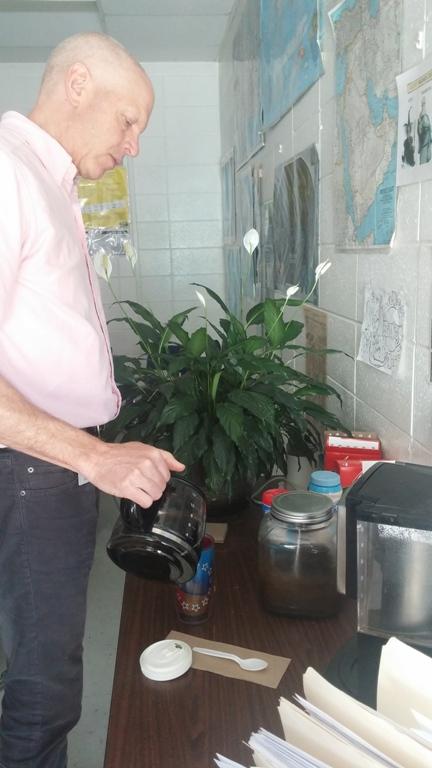 Even though this beverage has been around for centuries and resides in the hearts and homes of many, including DeCourcy, the question still stands: is it good for you or not? Surely, two pots a day cannot be healthy.
Speculation over caffeine and coffee's health effects continuously circulate, so it's time to get the facts straight.
According to CNN, the conclusion is that coffee's health benefits far outnumber any potential consequences. Reduced risks of type two diabetes, heart disease, melanoma, Parkinson's disease, liver disease and cancer, prostate cancer, Alzheimer's and multiple sclerosis associate closely with coffee consumption.
These facts can be contrary to common belief as some argue that coffee stunts growth or leads to future health risks in young people. While true in extreme cases, it is rare that a person who is still growing would consume enough coffee to have serious consequences.  
Senior Danielle Johnson challenge these odds with her love for coffee. "I feel awful and tired without coffee," she said. "I sound like an addict, [but] it's true." Johnson feels the powers of coffee on a daily basis, grabbing a cup in any way possible.
For some people, there's something about the drink that gives it the power to turn days from bad to good or set an extra hop in someone's step. "I associate the taste of coffee with good mornings and being energetic," said junior Cassidy Powell, a daily coffee-drinker.
A healthy dose of three to five cups of black coffee a day can keep the body healthy and mind alert. An apple a day may not keep the doctor away, but a good cup of joe might.
Coffee is rich in riboflavin, also known as vitamin B2. According to the National Institutes of Health, riboflavin is often taken as a dietary supplement and helps stimulate the metabolism and cell growth and function. An eight fluid ounce serving of regular-brewed coffee has 11 percent of the suggested daily serving of riboflavin with less than three calories. A cup of coffee has zero fat and carbohydrates with a sprinkling of vitamins and minerals.
Coffee's natural "healing powers" don't apply to unfiltered coffee, though. According to Mayo Clinic, high consumption levels of espresso or boiled coffee "has been associated with mild elevations in cholesterol levels."
"
[W]hat's the 'brew'haha over coffee anyways?"
— Yuri-Grace Ohashi
Two or more cups of these types of coffee a day can "increase the risk of heart disease in people with a specific, and fairly common, genetic mutation that slows the breakdown of caffeine in the body," Dr. Donald Hensrud said in his article on coffee. Thus, the speed at which the body metabolizes this coffee may affect the body and put it at risk.
Besides the consequences of coffee over-consumption, the stigma around coffee for being unhealthy is false strictly based off of its nutritional facts. A cup of black-brewed coffee has all of the health benefits without any of the consequences, but not all coffees are created equal.
DeCourcy sticks to basics, drinking self-brewed coffee from the pot. Many individuals, however, would rather go out and buy a dressed up cup of coffee with a fancy name. That delicious frosted coffee from Chick-fil-A or steamy Caramel Brulee Latte at Starbucks that so many love is loaded with calories, fat and sugar.
"The frosted coffees aren't necessarily more appealing to me than regular coffee, they just taste more like milkshakes," junior Lauren Scott said. "I drink the frosted coffee most just because it's convenient."
Chick-fil-A's small frosted coffee, being half ice cream, has over 250 calories, 38 grams of sugar, and six grams of fat.
The grande-size Caramel Brulee Latte packs 440 calories, 54 grams of sugar and 13 grams of fat. All of that in a standard 16-ounce cup, and there are even worse drinks out there.
Even in a cup of brewed coffee, the little add-ons like cream and sugar can sneak in a large amount of pesky carbs. According to Calorie Count, these everyday additions can take a five-calorie cup of Dunkin' Donuts coffee to a whopping 90 calories with six grams of both fat and sugar.
As long as someone stays conscientious about the health hazards in sweeteners, brewed coffee retains its health benefits.
So putting the nutritional facts and health benefits aside, what's the "brew"haha over coffee anyways?
Coffee has several factors that make it appealing to certain people. The taste of a dark roast may be love-or-hate, but coffee has notable positive impacts for the mind and soul. According to Huffington Post, studies show that coffee's aromas are linked to alleviating stress related to sleep deprivation. The drink itself, not the caffeine, also has close ties to increased happiness and lower levels of depression and suicide.
"What is this 'when you don't have coffee' people speak of?" said junior Olivia Kimberling, a classifies coffee-holic. "I tried not drinking coffee once and had withdrawals. I don't feel like myself when I don't have coffee."
Huffington also reports that coffee consumption can enhance athletic performance and boost brain efficiency. Coffee stimulates the brain in a way that enhances how a person thinks, making their mind process things more sharply and intelligently. Caffeine in a cup of joe can "improve reaction time, vigilance, attention and logical reasoning," editor Renee Jacques said.
When early morning alarms go off after a day full of club meetings, sports practices and homework, coffee is there to get students at the Mill through another day in their busy lives. "I drink [coffee] probably every morning to help me wake up from the previous night," junior Conner Gayda said.