Starr's Mill students, faculty acknowledge Chick-fil-A craze
As students begin piling out of their cars and trucks and into the school, passersby can't help when  their noses' pick up the 'chicken-mini' aroma and eyes zero-in onto the classic red and white packaging of the Chick-fil-A cup and box.
What started off as a plaything for students in Fayette County schools, the iconic "Eat Mor Chikin" cow has woven its way into the minds and hearts of the majority of the students at the Mill.  "I've been eating there for as long as I can remember," junior Aurelia Slay said.
"
The reason we keep going back is because it's been conditioned in us.
— Senior Kelly Kozusko
Since the Chick-fil-A at Starr's Mill opened in 2006, it has remained a fast-food staple for many students. The restaurant's success is partially owed to the convenience for students to quickly make a stop and be at school several minutes later. Slay said that she enjoys Chick-fil-A so much because "it's just really convenient and it's the only fast food that isn't really that bad for you." A typical morning order for Slay "is strictly a chick-fil-A chicken biscuit and medium coke."
With more than 16 years of Chick-fil-A consumption under her belt, Slay does admit that "sometimes [she is] bored of the taste."
Math teacher Emily Woodward has similar thoughts. "I think that people do get sick of it. So they may take a week off from it, but they always go back. I'll occasionally get tired of it and switch up the routine," Woodward said, but after a couple days, "I can easily go back to eating there."
Woodward typically eats there "at least three times a week," she said. Her students prove to have the same pattern, and she estimates that 20 percent of her students from last year consumed Chick-fil-A daily.
One theory on why students and teachers alike continue to go back for more lends itself to a psychological convention. "The reason we keep going back is because it's been conditioned in us," senior Kelly Kozusko said.
Kozusko's list of items that have conditioned she and her fellow peers includes stuffed animal cows, the injection of the "Eat Mor Chikin" slogan into the happy birthday song, Chick-fil-A calendars, and their signature billboards in downtown Atlanta.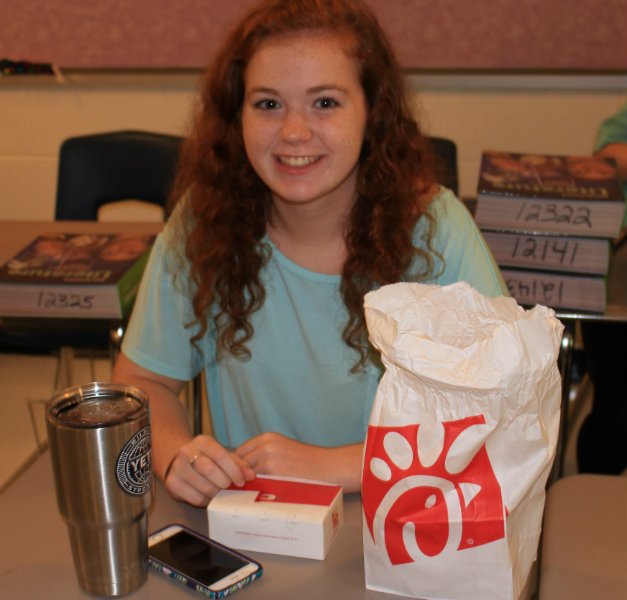 "[Chick-fil-A] is always changing their billboards heading into downtown and they're pretty funny too. That's really good advertising," Kozusko said.
In addition to their innovative marketing techniques, Kozusko added "[Chick-fil-A] has always sponsored school events. Whenever elementary school classes had competitions, the reward would always be Chick-fil-A related. It's just something we've grown up with."
Kozusko believes that the use of Chick-fil-A prizes in elementary school "was a really smart way to promote their business."
Kevin Hughes, new restaurant marketing director of Chick-fil-A Fayetteville Towne Center and Chick-fil-A Starr's Mill said that "the best way to promote our company is through word of mouth marketing so we want to satisfy our company.  Making sure our customers have the best experience possible so they have the best association with our brand.  It is always crucial to remember the four p's of marketing [product, price, place, promotion] whenever you are making a decision," Hughes said.
Promoting their business has created a direct linkage to their booming sales from morning until night by the Mill's students and faculty. "Mornings are always super busy. I know this from being there and having friends that work morning shifts. They are usually packed from 7 a.m. to 2 p.m.," Slay said. "On Fridays it's also really busy and half of [the school] is there," she added.
Chick-fil-A at Starr's Mill employee and senior Evan Baker, who usually works the evening shifts, made it clear that "the most stressful time of evening shifts is surprisingly not during dinner rush, but later in the night around 9:45 p.m. to 10:30 p.m.," Baker said. "[Working there] can be a lot of stress, but a cooperative team can make all the difference."
But still, why do people keep coming back?
"People continually come back to Chick-fil-A because of the kind service. Seeing a warm smile and a genuine greeting at a fast food restaurant is just so contradicting to everything we know about fast food dining," Baker said, and "it stands out to people, and I think people know that they will enjoy their time in the store, instead of just the food."
Hughes beliefs' seemed similar, "we want to associate Chick-fil-A with good experiences among guests because when they think about Chick-fil-A," Hughes said, " they will have a positive outlook on it, and because of this, hopefully they will continue to choose us."