Guitar hero of the Mill
First year physics teacher uses his love of guitars in the classroom
Teachers find a variety of ways to incorporate their own passions into their teaching whether it be a love for a particular theme or a hidden talent. One teacher uses his love of a musical instrument outside of school in his classroom to make certain units more memorable and interesting.
Physics teacher Nicholas Gillies has a love for guitars. His interest in guitars began when he was 13 years old. " My parents had no interests in music, so I didn't either really. My friend across the street was four years older than me and I rode to school with him. It was constant Seattle grunge and punk music at full volume," Gillies said. "He had a little garage band that would practice on the weekends so I'd go listen. When they took breaks I'd play on the guitar, drums, bass and all just to try and 'figure them out'."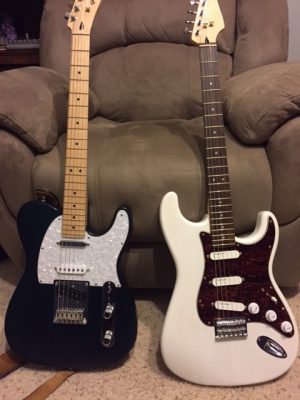 After exploring his interest in music, Gillies told his parents he wanted a guitar for himself, but his parents wouldn't make the purchase. "My dad wouldn't get one because he said I'd lose interest and it'd be a waste," Gillies said.
Therefore, Gillies took matters into his own hands and purchased his first guitar with the money he made from cutting grass. He then began to teach himself how to play. "I still have that guitar, even though, it's now held together by duct tape after a brick wall incident," Gillies said.  
After learning how to play the guitar, Gillies began to gain an interest in another aspect of guitars: making them. "Another friend of mine has built guitars for a few years. I was going to get him to make me one because I wanted something very specific in terms of the electronics. I took woodworking in high school and I know the circuitry stuff from physics, so I just decided to build my own and try it out," Gillies said. "I was way too ambitious for my first guitar, but it turned out very well. I can honestly say that with the combination of pickups, and how they are wired, it is the only one like it in the world."
In college, Gillies began to participate in bands with his friends just for fun. "My friends and I would record songs under the name D4. Most songs were parodies of hit songs, or random funny stuff we'd come up with on the spot. We probably recorded over 150 songs, but we never played a song again after we recorded it," Gillies said.
Then, Gillies and his best friend in college recorded an album of original songs. "We did a cover of Old Crow Medicine Show's 'Wagon Wheel' before 99.999% of the world knew the song existed. Unfortunately we live in different states, so we were never able to do another album although it'll happen sometime," Gillies said.
"
'I'll bring in one of my electric guitars and we'll go through the physics behind how one works'.
— Physics teacher Nicholas Gillies
His most recent experience with a band and songwriting took place with a good friend of his who is an English professor. "My good friend, a literary genius, would give me poems or other scribblings on napkins or whatever he had to write on. I'd read it melodically in my head and realize I had guitar music that would go with it, so now we've got a song," Gillies said. "He too ended up moving out of state, but the internet today makes collaborating easier."
Their band name was the "Crimean Beard." Because his bandmate didn't play any instruments, Gillies has to learn an additional instrument other than guitar. "I bought a drum set and taught myself drums so our songs would sound like a band," Gillies said.
Gillies uses his love for guitars in his teaching methods as well. There are two units in which Gillies says guitars fit perfectly. "When we get to electricity, I'll bring in one of my electric guitars and we'll go through the physics behind how one works and what's really going on that we don't see with our eyes. We'll talk about circuitry behind it and really what's going on when you turn a volume knob," Gillies said. "Then we talk about sound waves, resonance, and standing waves which applies more to an acoustic guitar and how it's able to produce the sounds it does at the volume it does naturally. We can use it to demonstrate some general wave properties as well. One time my students were struggling with Newton's Laws of motion, so I wrote a song about it and we sang it together in class, for better or worse."
From a young age, Gillies knew he had a passion for making and playing guitars, and this is still a major part of his life today through incorporating guitars into his teaching methods by explaining the different parts of the guitars and how they relate to physics as well as continuing to build guitars in his pastime. "After building the first guitar, the fever hit me and I kept building them. Each guitar is different and is designed with a plan for what I want in terms of looks, sound, style, versatility," Gillies said. "The hardest part is I don't know if everything even works or is going to happen until everything is put together and it's plugged in for the first time. Luckily, it's all been a success so far."