Shopping spots for students at the Mill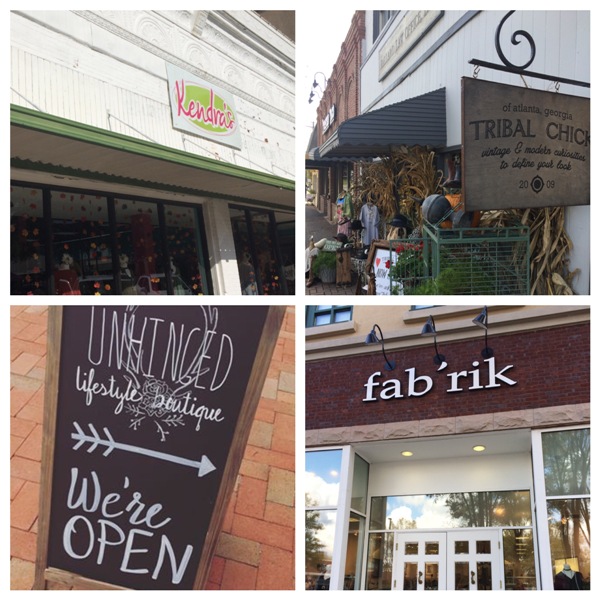 Fayetteville, Senoia, Newnan, and Peachtree City are known for their unique and obscure boutiques. Each clothing store has its own interesting style while appealing to certain consumers. From vintage vibes to right off the runway, boutiques like Tribal Chick, Unhinged, Kendra's, and Fab'rik know how to attract a crowd. Reasonable prices and quality clothing create a buyer-friendly atmosphere fit for every student at the Mill.
Tribal Chick, located in the square, opened in June of 2016. "We are a hip lifestyle boutique and Style House best described as walking into the doors of a highly styled gypsy caravan," owner Megan Hancock said.
They offer vintage, bohemian clothes that add a cool girl vibe to anybody's closet. This small boutique has a soulful gypsy vibe and is not for those preppy at heart. They offer one-of-a-kind clothing items and jewelry made exclusively for Tribal Chick.
Unhinged, on Main Street, carries trendy and popular styles. They follow the ever changing trends of the high school world and mostly attract high school and college students.
"The atmosphere of our store is an updated, simple/casual, and rustic style of living," owner Tammie Golden said. The clothing and accessories are reasonably priced and popular.
Kendra's, located in downtown Newnan, offers clothing that follows the most popular trends of each season. They have a fun and welcoming atmosphere, always playing popular and upbeat music. Having been open since 2014, they've mastered the art of selling preppy clothes that appeal to all ages.
"Our awesome customers just love great prices on awesome trends," owner of Kendra's Jessica Slay said. They also offer trinkets and jewelry that would be great gifts and accessories. They attract large crowds mainly on the weekends.
Fab'rik is an upbeat and stylish store that many students go to shop. Located in the Avenue shopping center, the store offers high end fashion at affordable prices. Everything, with the exception of their premium denim brands, is priced under $100. From standout prints to versatile silhouettes, this boutique appeals to a wide variety of ages and lifestyles.
"We only carry limited quantities of each item so our customer doesn't have to fear seeing herself in the same outfit as someone else when out at an event," owner Jamie McCook said.
Students at the Mill have multitudes of options to fulfill their shopping needs. These boutiques stay true to their unique and individual styles and trends while appealing to a wide range of consumers. With the upcoming holiday seasons approaching, now is a great time to find a new favorite store and support local businesses.