Falling into this season's makeup and fashion trends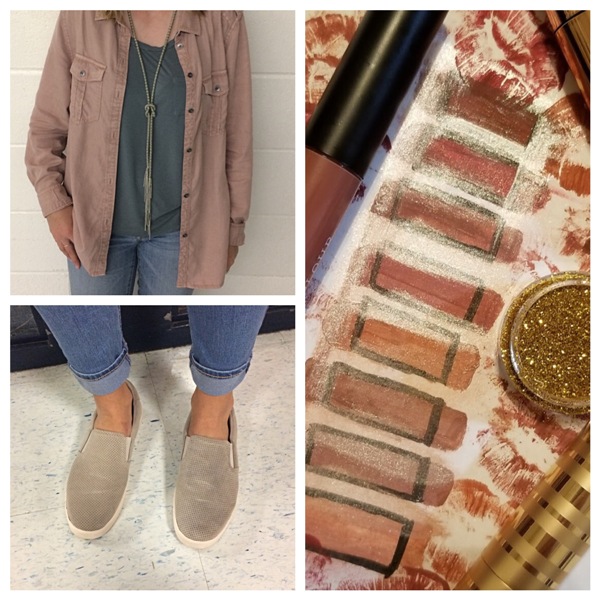 As quickly as the leaves begin to change color, so does the style at Starr's Mill. With the arrival of the fall, Warmer hues take over the hallways. Students and teachers alike have begun to bundle up and embrace the darker colors in their makeup looks. Fall has commenced and the Mill is ready to follow the new trends that come with it.
Fall Makeup
Autumn has finally arrived bringing with it a new style of beauty trends. Fall makeup is characterized by warm hues such as deep reds, oranges, and browns. Included are some of the most popular yet simple beauty trends that are guaranteed to be seen this season.
The hottest lip looks of this season consist mainly of matte burgundy and brown shades. Matte lips are the latest trend right now as it exceptionally fits the profile of this season. Gold glitter is also an excellent accent to make this look really pop.
For a bolder, more formal affect, students can use a darkly tinted lipgloss such as Maybelline's Color Sensational Vivid Matte Liquid in Coffee Buzz or Red Punch, both of which are a part of their new fall collection. Additionally, gold glitter can be added on the interior of the lips for a look that stands out even more. For a more neutral everyday look, students can choose less pigmented lip products of the same tones such as a product in the Color Sensational Creamy Matte Lip collection also by Maybelline.
As for eye makeup, neutral palettes perfectly adhere to the colors of fall. One can begin their eye look with a pale sand shade of eyeshadow in the corner of their eyelid and progressly use darker brown shades across the rest of their eyelid: blending between each shade for an ombre effect. Pending on how defined of a look is desired, students can use darker or lighter corresponding shades of eyeshadow.
After eyeshadow is completed, teens can then apply black or brown mascara as well as liquid eyeliner of the same color if desired. These additional steps complete the eye makeup look and distinguish the eyeshadow.
To pull everything together students can use gold or bronze highlighter such as MegaGlo highlighter by Wet n' Wild. Using highlighter is very much in style right now and can be frequently seen worn around the school. Warm shades of highlighter embody the style of this autumn.
By incorporating some of these looks in their everyday style, students can bring out a bit of fall while remaining true to themselves and in trend. Embracing the cooler weather's makeup styles is a simplistic yet entertaining way for the Mill's students to switch up their daily look while feeling stylish at the same time.
Fall Fashion
Students have many options when it come to fashionable tops this season. For a more comfortable feel, students can dress in a casual t-shirt with an oversized cardigan or a bomber jacket. A blouse with balloon sleeves or a peplum cut will give the wearer a more dressed up look.
Various styles of sweaters are trending this fall. Bulky sweaters worn with leggings seems to be the most popular here at the Mill.
"I tend to wear sweaters that can be worn with any type of jeans or a jean skirt," senior Olivia Crew said.
As for pants, bootcut jeans and athleisure leggings are in style. Students can dress up or down in either of these styles. Bootcut jeans can be worn with just about any top and some booties while athleisure leggings can be worn in solid colors or prints. Floral prints in pastel colors are currently on trend.
Skirts of all different materials and styles are also on trend this season. Jean skirts have traveled from summer into autumn. Suede, button up skirts have been worn often at Starr's Mill. Skirts can be paired with a nice blouse and knee high boots.
No outfit is complete without the perfect pair of shoes. Knee high boots have come back into style as well as ankle boots. Lace up espadrilles are also in style this year. For a more laid back look, slip on tennis shoes are the perfect choice. This year, shoes are being worn in neutral tones so as to not take away from the outfit.
Jewelry is the ideal way to refine an outfit. Large statement earrings have taken the place of statement necklaces this year. Bold, colorful bracelets pair wonderfully with a neutral top. With the neutral palette of autumn, quirky and interesting jewelry adds the little pop that makes a boring outfit something special.
By merging these trends with their own style, students at the Mill can rock the looks this fall fashion season.