Atlanta United makes history in inaugural season
A crowd large enough to sell out Bobby Dodd Stadium makes its way to the stadium on a chilly Sunday night in March. The atmosphere is filled with electric excitement as the fans scramble to their seats after passing through the congested admission lines and prepare to watch one of the two newest Major League Soccer expansion teams play. Each fan in the Bobby Dodd knows Atlanta United's inaugural match will be a special one.
Soccer in Atlanta has long been a discussion point because the city has been full of an abundance of talent for many years, yet there was never an MLS team until 2017. The man responsible for bringing such an effective front office and MLS team to Atlanta is Arthur Blank, otherwise known as Uncle Arthur, who also owns the Atlanta Falcons in the NFL.
He saw the potential in an MLS fan base in Atlanta and on April 16, 2014, Blank announced that the MLS was making its way to Atlanta. The hype around the team began to develop that day and for some, the first game could not come soon enough.
The first Atlanta United game was a landmark in its short history because it set the culture of the fan base and showed the city what this new team was capable of as Atlanta United clashed heads with well established New York Red Bulls. Yamil Asad, a young Argentine player on loan from Vélez Sarsfield in Argentina's first division, scored Atlanta United's first ever MLS goal, igniting what would be an extremely successful first season for Atlanta United.
"
Nobody would've known the Bobby Dodd would turn into what it did. [The front office] was probably shocked at how much it took off and how much people enjoyed that stadium."
— Atlanta United fan Jay Riddle
Despite playing impressively for most of the game, the Red Bulls came back to snatch a dream start to the season from Atlanta United's grasp as Atlanta lost 2-1. Undeterred by the disappointing loss, the future looked bright on and off the field. The fan base behind Atlanta United soon discovered just how passionate the city is about soccer.
One of Atlanta United's focal points is the fans, which helped motivate the team throughout the season. Jay Riddle, a major fan of the team, believes Atlanta United helped bring the soccer community in Atlanta together. Riddle joined The Faction, one of the four officially recognized Atlanta United supporter groups, and has been a fan of watching soccer ever since he returned to watching Arsenal, an English soccer club, during his college years.
He eventually visited England and Spain to respectively watch Arsenal and Barcelona play. "[The Barcelona atmosphere] was nothing like the Atlanta United atmosphere," Riddle said. He was shocked to discover the passion behind Atlanta United compared to one of the top teams in world soccer, which is a huge compliment to Atlanta.
Riddle stated he didn't have any expectations when it came to Atlanta United's atmosphere, yet on the opening match day, everyone chanted and stood up during the match, which contrasted with Riddle's experiences at Arsenal and Barcelona where all the fans remained in their seats during the duration of the match.
"[My European soccer experience] is nothing like what I've experienced in Atlanta. I found a richness in it that's much more beyond winning the MLS cup and I think that's why I didn't feel as emotionally distraught as I thought I was going to when we didn't make it [through the first round of playoffs]. 90% of my friends, I didn't even know before this season," Riddle said. He would soon find a passion in the game beyond what happens on the field.
One of the biggest surprises of the season was how important Bobby Dodd was in helping to create the atmosphere which Atlanta United has become known for. "Nobody would've known the Bobby Dodd would turn into what it did. [The front office] was probably shocked at how much it took off and how much people enjoyed that stadium," Riddle said. The Bobby Dodd (and eventually The Mercedes-Benz Stadium) slowly became a core component of Atlanta United's foundation.
Atlanta's regular season home record included 11 wins, three losses and three ties, compared to their away form of four wins, six losses and seven ties. Many Atlanta United players have gone on to say the home support is something they have never experienced and it helped spur the team on to win matches and create history.
One element of this history was the attendance records Atlanta broke on numerous occasions. The first game was a sellout which initiated a long line of consecutive sellouts that eventually led to an average attendance of 48,200 people, an MLS record.
"
This record didn't last for long as Atlanta broke its own record on the last day of the regular season, attracting 71,874 fans to the stadium."
— Staff Writer Kyle Soto
Once sellouts became the norm for Atlanta, the upper level of the Mercedes-Benz Stadium opened up for the first time and breaking the record as the highest attended regular season game with 70,425 fans. This record didn't last for long as Atlanta broke its own record on the last day of the regular season, attracting 71,874 fans to the stadium.
Atlanta United looked to smash the playoff game attendance record and racked up 67,221 fans on a Thursday night. With a fanbase like this, people around the league, including MLS, began to take notice and decided to reward the city for their success.
Every year MLS hosts a foreign club team to play against the best the MLS has to offer. The team is selected by a combination of fan votes and coach selection and MLS is bringing the 2018 edition to the Mercedes-Benz Stadium, with Atlanta United manager Gerardo Martino coaching next year's squad.
While Atlanta United offered new opportunities to Atlanta's best young talents and soccer fans yearning for their own club, it also brought a new market to another group many people might overlook: journalists. One example is Jason Longshore, a journalist who hosts his own talk show, "Soccer Down Here" and commentates on 92.9 The Game.
Longshore has been a fan of the game since he was nine years old. However, when he was a kid, the only games available on TV were the biggest games in Europe. "In 1986 there wasn't a professional league [in the U.S.] and it wasn't on TV so I didn't really know what soccer was," Longshore said. The Argentine national team and Diego Maradona absolutely hooked me."
In today's world, watching soccer is much more accessible and with the introduction of Atlanta United, Longshore's career has received a huge boost because now he can cover the sport he loves in his city. Riddle also became involved in an Atlanta United fan podcast "Mouths of the South."
All in all, Atlanta United has created opportunities for more than just fans and players and while Atlanta United's first team relished in success in its first MLS season, Atlanta's youth academy will supply the first team with young and fresh talent for years to come.
Atlanta United's youth academy U-17 team won a national championship in its first attempt, which will give other MLS academies a few thoughts to ponder on. The biggest name to emerge from the youth academy is Andrew Carleton, a 17-year-old from Powder Springs, Ga., who featured for the first team against Houston Dynamo in the Bobby Dodd and in doing so, becoming the first homegrown player to play for the team in an MLS game.
Atlanta United's academy began to attract more attention from the international stage during a tragic time in U.S. soccer history when the U.S. Men's National failed to qualify for the 2018 World Cup in Russia. Andrew Carleton, Chris Goslin, and Justin Garces, three Atlanta United players, received call ups to the U-17 World Cup in 2017 where the American youth made a run to the quarterfinals where they fell to England.
Many soccer journalists credited the three Atlanta United youth players to be instrumental to the U.S.' success and creative play in the tournament. To help build for future success and continue the development of Atlanta youth, Atlanta United is brining a United Soccer League team to Gwinnett. Bringing a lower division team to the city will help give young prospects like Carleton and Goslin more meaningful minutes against better competition.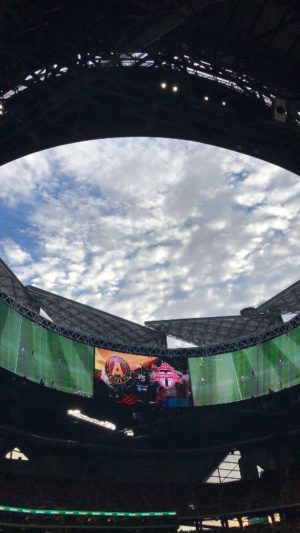 One of Atlanta United's primary focuses in the coming years will be developing young players and winning games. Of course, soccer games are won on the field but it is much easier to be a successful team with a strong front office.
Atlanta United's front office is, simply put, incredible. Arthur Blank brought in Darren Eales who worked at Tottenham Hotspur Football Club, one of the biggest clubs in English soccer, where he served as executive director and was heavily involved in the biggest aspect of the club. Blank knew what Eales could offer to Atlanta United and appointed him president of the club.
Another important component of the front office is Carlos Bocanegra, a former U.S. National team player, whom Blank appointed as technical director of the club. Bocanegra works to maintain development in the club while creating a scouting network which proved crucial to Atlanta United's success.
Atlanta United eventually brought in Gerardo "Tata" Martino, a world renowned manager who most notably coached at Barcelona and Argentina. Being well respected and seasoned, many international players came to Atlanta United for the opportunity to play under Martino.
Working together, Atlanta United brought various young talents to the team such as Miguel Almiron, Yamil Asad, and Hector Villaba. While the club has brought in young players who can continue to improve for years to come, veteran players such as Michael Parkhurst, Jeff Larentowicz, and Brad Guzan were brought in to bring a sense of balance and experience to the squad.
This balance helped Atlanta United become the first expansion team since 2009 to qualify for the MLS playoffs, scoring 70 and conceding 40 goals in the regular season. Unfortunately, Atlanta's scoring record failed to help in the first round of playoff games as Atlanta United's season came crashing down in the Mercedes-Benz stadium.
In the final game of the regular season, Atlanta United faced league leaders Toronto FC in the Mercedes-Benz stadium. Atlanta desperately wanted the win along with a few results in other games to help the team move up to second place which would have given Atlanta a bye round which would have allowed Atlanta United passage into the second round of playoffs without having to play in the first round.  
The game finished 2-2, leaving Atlanta in 4th place in the Eastern Conference to face Columbus Crew SC in the first round of playoffs. Given Atlanta's winning record against the Crew, many thought Atlanta would walk away with the win. After an exciting 0-0 draw, the playoff match went on to a PK shoot-out where Atlanta lost 3-1.
Atlanta United fans should be excited for the future because there is much to look forward to. Even after the disappointing season ending loss, Atlanta United's inaugural season will always be one for the record books.
"Atlanta United had some of those moments that were just goosebumps. As good as 2017 was there is a lot of room for improvement in 2018 which will be a good challenge for the club," Longshore said.