David Mitchell
Former Prowler E-I-C expands writing horizons beyond sports
Since elementary school, Starr's Mill alumnus David Mitchell knew he wanted to spend a lifetime writing. Initially, Mitchell put all his focus into sports. Although his concentration would later change, his commitment from a young age has led him to a successful and exciting career in journalism.
"
I grew up as a big sports fan. From the time I was in 2nd or 3rd grade, I read the newspaper every day and got the sports page every day."
— class of 2016 graduate David Mitchell
"I always wanted to get into journalism and get into writing," Mitchell said. "I grew up as a big sports fan. From the time I was in 2nd or 3rd grade, I read the newspaper every day and got the sports page every day. After the games, I would go and write my own stories on the computer and makeup standings and do all the stats and everything and do my own sports notebook. From the time I was young I just wanted to write about sports."
Growing up, Mitchell's passion for not only watching but writing about sports didn't falter. When he reached the Mill, Mitchell was able to begin his pathway in journalism by writing for the school's newspaper program. Knowing that a lot of other high schools couldn't provide this opportunity led Mitchell to take full advantage of the class and become the editor-in-chief of the paper.
"Me, myself, and the teammates via the other staffers [who] were there when I was there, we spent a lot of time in the newsroom," Mitchell said. "We did mornings and afternoons and everything and that was just the only thing that kind of took my attention was the newspaper. That was just the most important thing to me in high school."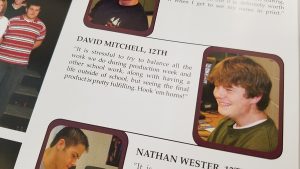 By making newspaper his main extracurricular, Mitchell stayed on track to achieve the career he dreamed of since he was a kid. After graduating from the Mill in 2006, Mitchell attended the University of Georgia majoring in journalism with a concentration in magazines.
"It was really crazy to me to get [to UGA] and realize the leg up I was able to have coming from Starr's Mill and getting a chance to work at the Prowler, because I had skills like calling people on the phone I didn't know and interviewing them," Mitchell said. "Things that other people had to learn how to do in college: how to do interviews, how to conduct themselves, the right questions to ask, how to craft your story, how to find stories. It helps you learn how to think like a storyteller. So, that was incredibly beneficial."
Mitchell's time and dedication to the Prowler ended up paying off big time for him not only in college but even for working for newspapers in the future. After graduating from UGA in 2010, Mitchell picked up his first job as a sports writer for the Gainesville Times in Gainesville, Georgia.
"I had a chance to cover Deshaun Watson as a sophomore QB in high school," Mitchell said. "Still the greatest high school athlete I've ever seen. We all said in the newsroom back then that he was going to win a Heisman and make a lot of money in the NFL."
After spending about a year in Gainesville, Mitchell moved to Columbus and began writing sports for the Columbus Ledger and Quire. There he continued to cover mostly high school sports across about twenty schools in the area.
"It was a lot of really good players who have gone on to play big-time professional sports now," Mitchell said. "So, that was a blast it was a lot of fun to get to know all the people and the great thing about down there was the community. I really enjoyed how tight-knit the community was. You get to feel like you're a part of it, and I really enjoyed that."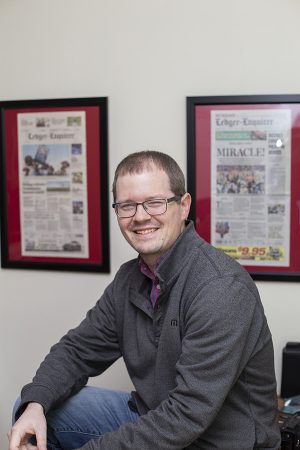 In addition to covering high school sports in Columbus, Mitchell was able to attend and write college football games, including the 2013 BCS National Championship between Alabama and Notre Dame. Mitchell's favorite event as a sports writer was covering the 2013 Iron Bowl between Alabama and Auburn and witnessing Auburn's miraculous "Kick Six" win.
"I remember watching Chris Davis run down the sideline right in front of me to score the game-winning touchdown, running to midfield for an interview, and being swallowed by the Auburn fans who had run onto the field," Mitchell said.
Following five years of sports writing for newspapers, Mitchell realized it was no longer his place. He pursued a change from the sports tasks he knew so well and accepted a career at Georgia Tech in the communications and promotions department of the college's computer science division.
"It's kind of funny. What I always wanted to do was to go into to journalism and that's what I went into initially, but I think sometimes you have a plan and it's something you always wanted to do, and you get there and you realize it's not where you're meant to be," Mitchell said.
Mitchell has now spent the last three years working at Tech providing PR and marketing support for the School of Interactive Computing. Mitchell's job now consists of writing about the college's research projects and explaining them to the community as well as promoting their findings to news sources. Mitchell has gone from summarizing home runs, touchdowns and goals to exploring artificial intelligence, robotics, virtual and augmented reality, wearable computing, and a number of other technological advances.
"It's two very different things going from covering sports all my life to doing things with technology and computers and things that I had never even thought about before," Mitchell said. "It's a new challenge, and I really enjoy being surprised every day. I wasn't really surprised every day writing about sports because it was something I always really knew about."
Although the subjects Mitchell writes about now can hardly be related to his sports past, there is one major connection that unites the two: the people behind Mitchell's writing.
"I learned that it wasn't the sports that I cared about, it was the people that were playing the sports and every story whether it's what I'm doing now in computer science or whether it's sports or fashion or entertainment or whatever, I think everything comes back to people," Mitchell said. "Everything is about learning about people, and what people love to do, and what they are passionate about, and telling those stories. That's my biggest goal now — sharing those stories."
Even though Mitchell never expected himself to be writing about technical innovations, he enjoys learning new things every day through writing about a topic he isn't well versed in. There is always a new project for Mitchell to investigate and to fulfill his curiosity.
"
Everything is about learning about people, and what people love to do, and what they are passionate about, and telling those stories. That's my biggest goal now — sharing those stories."
— Starr's Mill alumnus David Mitchell
"What I really love about it is not knowing something and really having to ask a lot of questions to figure out what this artificial intelligence research is," Mitchell said. "I have no idea about that kind of stuff, but the researcher I'm interviewing does and it's really fascinating to learn these things that are going to be taking shape in the world in the next ten, twenty, thirty years. That stuff really fascinates me and I love promoting it and being a part of it, so it's hard to see me changing now, but it's like the same as when I first got into sports and when I thought I'd be doing sports."
Mitchell hasn't entirely left the world of sports though. On the side, Mitchell writes freelance for Georgia Tech's newspaper, the White and Gold, covering the college's athletic teams.
"I'll always have a spot in my heart for writing about sports and watching it and all of that good stuff," Mitchell said.
Mitchell encourages current students of the Mill who are looking to go into journalism or communications careers to tell stories by asking questions and being curious. Through focusing on telling a story and not necessarily on a certain topic, one can find a way to expand writing to horizons beyond the comfortable and routine.
"I think the most important thing to me is that I make it about people and being curious and asking questions about everything. It's so important because that's how stories are found and that's how stories are told," Mitchell said. "It also allows you, asking questions and being curious, to takes you on to paths to find really cool stories that wouldn't be told otherwise. Learning about people and finding those stories– that's what makes news and writing and storytelling so fascinating."
Students interested in Mitchell's passion for journalism can visit  The White and Gold to check out his freelance sports writing or listen to his podcast to learn more about the innovations at Tech that Mitchell documents daily.
Mitchell again represents and inspires the endless possibilities achievable by the students here at Starr's Mill as well as the excellent preparation the school's programs and teachers provide for the future.
Leave a Comment