Student teacher exudes excellence
Many people living in the twenty-first century strive to accumulate as much money as possible in their endeavors. However, the real cost of living to these standards doesn't come from an individual's wallet, but from their dreams. One example of a man that refused to sacrifice his dream is Starr's Mill's award winning student teacher Jeffrey Foley.
"
I mean if you were a true teacher, one that takes the time to really care about the students, you're not just sitting here collecting a paycheck."
— student teacher Jeffrey Foley
"Being able to see a light bulb go off for a kid, that they get it, that they understand it, that they have interest in it, that's what makes you keep coming back," Foley said.  "I mean if you were a true teacher, one that takes the time to really care about the students, you're not just sitting here collecting a paycheck."
Foley, a student teacher currently working in the history department with Rebecca Rickeard, teaches to satisfy his love for helping others. Even though student teachers don't receive a paycheck for the countess hours and dollars they spend on school in and out of the classroom, Foley finds pleasure in more than just the material world.
Foley's talent has allowed him to strive to make a positive impact on both his students knowledge and study habits. However, his teaching talent is not all that defines his presence in the classroom. While Foley does teach an history dense course, he is still able to lighten the atmosphere with the attitude he brings each morning.
"I bring humor, [but] sometimes I bring a lot of bad jokes into the classroom," Foley said. "I always make jokes when I'm uncomfortable, and sometimes when a joke misses I try again with an even worse and more uncomfortable joke."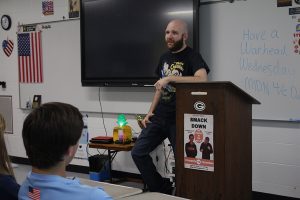 While Foley excels in teaching history because of his in-depth, yet fun, teaching style, there is more to his methods than just jokes. Instead of  talking down his students, Foley puts forth his best effort to respect all students with diverse backgrounds and treat them as he would like to be treated. As a result, Foley that his students will recognize this in his class if nowhere else because he still knows how hard the life of a student can be.
Throughout his lessons, Foley reaches his students by relating as a teacher and as a student. Because Foley is returning to the Fayette County school system as a college student, he better understands what information students keep with them upon leaving  "The Bubble" for college.
"I don't  necessarily think that the people going through these classes are going to remember all the specific people we talked about or dates and what not," Foley said. "My philosophy is that I want you to think and be able to look at things going on around the world and try to connect those big picture ideas"
Foley has worked for two semesters under world history and AP European history teacher Rebecca  Rickeard. Throughout the year, Foley has been a student much like the seniors taking his course. However, instead of tuning in to prepare for the next test, Foley must observe how Rickeard teaches and look for ways to improve his own method.
"Rickeard has given me free reign to do whatever it is that I wanted to do this semester, and that's not something that can be said for a lot of student teachers," Foley said. "There's a level of trust involved that I'm not sure that really can be shared with any other student teacher and mentor relationship."
While the student teacher has been benefiting from an instructor who is "most certainly one of the best that is on staff," Foley's keenness for teaching compliments his mentor's passion in the classroom. Moreover, both Rickeard and Foley gain from each other's presence.
"
He is a naturally born teacher and knows exactly what he needs to do."
— history teacher Rebecca Rickeard
"It has been a real gift and an honor [to work with Foley]," Rickeard said. "I have found myself being challenged and encouraged as a teacher because he has some really good ideas. This is my 20th year teaching, so it's easy to start wondering if you are a little burned out, and to see the enthusiasm that he brings and the excitement, and the new ideas has been really encouraging to me."
It's not that often that a teacher relinquishes any authority of a class to a student teacher, but Foley and Rickeard are not any ordinary set of instructors.
"He said that I was able to give him free reign, and that's true because I trust him implicitly," Rickeard said. "He is a naturally born teacher and knows exactly what he needs to do."
Foley and Rickeard become a team when they walk through the doors of the Mill each morning. It is almost as if Foley was made for the job. However, while Foley excels at instructing others about history, his history to find his place in the world didn't start with teaching.
"I actually worked for UGA for a time  as an accountant. I really enjoyed working with numbers,  but it just wasn't for me," Foley said. "I was staring at a computer screen for eight hours a day,  and I wanted to make a difference and reach people."
Now Foley is able to change others for the better, and he is gaining recognition for doing so. He has recently been awarded the Doris Fisher Award for Excellence in Teaching History and the Overall Outstanding Teacher Education Student for 2019 by Clayton State University.
"It means a lot because I have some really good colleagues that are going through the program too, and to be able to be chosen over them is quite an honor," Foley said. "It is certainly something good to add to the resume."
Foley's experiences indicate that happiness is a misconception often paired with the amount of material items a person can acquire. True happiness is found not in the outside world, but with purpose and passion.
Leave a Comment