Head over heels
Preparing for holiday parties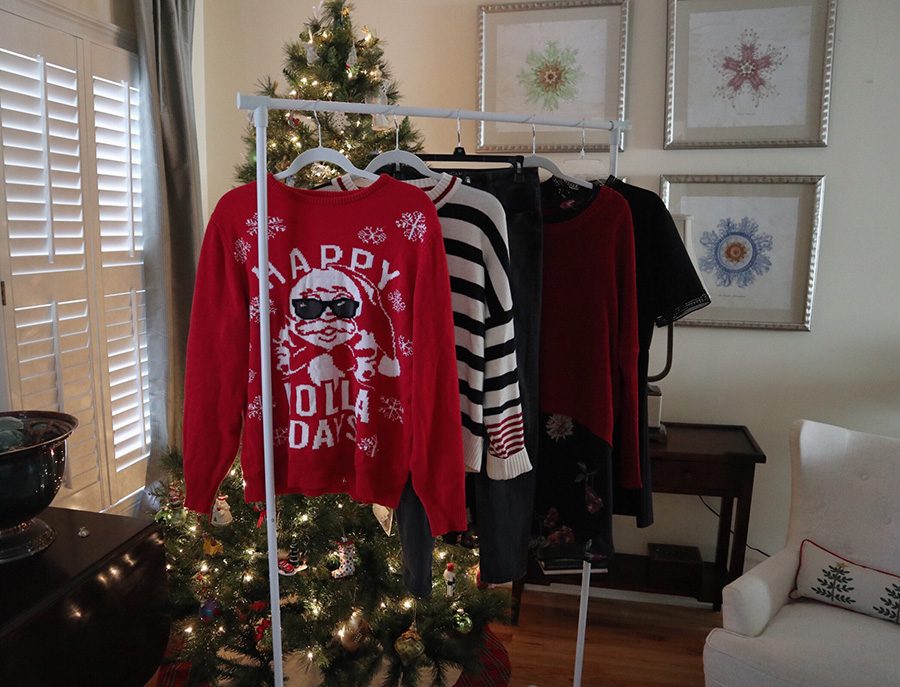 The holiday season is full of family get-togethers and parties. No matter the occasion, appropriate attire is everything.
For the classic "ugly Christmas sweater" party, the uglier the sweater, the better. I have found the ugliest of sweaters at large retail stores like Walmart and Kmart. These places have a wide variety of shirts and sweaters to choose from and they have the best prices. The Peachtree City Kmart is closing down and the discounts are phenomenal right now. Wear your ugly sweater with mom jeans for a more laid back look or pair it with a jean or velvet skirt and booties for a more high-end look.
If you aren't one for "ugly" sweaters, any sweater or blouse will do for an easy-going party such as the previous one. Wear an oversized sweater over your favorite t-shirt with leggings and tennis shoes to create a comfortable outfit. Pair your sweater or blouse with skinny jeans and booties to dress up the look. Finding a sweater or blouse this season is extremely easy. Your favorite boutique or retail store most likely offers a wide array of shirts to choose from. Pick one with neutral colors for a versatile top that can be worn after the holiday season.
If you are invited to a more classy party, dresses, skirts, and jumpsuits, are perfect for the occasion. Throw a sweater over your favorite dress and you've got a comfortable look that meets the dress code. Try to stick with neutral colors, red, or green to stay in the holiday theme. New Year's Eve parties call for a more sparkly approach. Pick out your favorite little black dress or colorful sequined skirt for a festive look. Wear heels or heeled booties with your dressed up look and add a clutch for a convenient purse. Find these looks at any local boutique or make your way up to Ashley Park in Newnan to shop at Belk or Dillards for affordable outfits.
Holiday parties often vary in dressiness so make sure you check the invitation or consult the host before deciding on your outfit. Remember, one can never be overdressed but it's easy to be underdressed.
As the holidays approach, enjoy your time spent with family and friends. Cherish each party and get-together as you prepare for the upcoming new year. Remember to stay true to your style while choosing the perfect outfit for every occasion.