Oh snap! The '90s are back!
'90s fashion trends revitalized in the halls of Starr's Mill
While '90s sayings such as "totally" and "dude" have faded away, fashion trends from this dated era still be trippin' down the halls of the Mill.
Denim is diving back into students' budgets, shopping bags, and closets. Flared, straight, skinny. You name it, we've seen it.
"
Something we never thought to see outside of either farming or the '90s — overalls."
— Photography Editor Shelby Foster
Denim jackets have also made a reappearance after crawling their way out of the grave. In the halls, this accessory has been seen over graphic tees, basic tees, and sweaters — with the new trend of cuffing the sleeves of the sweater over the end of the jacket sleeves.
Denim shirts such as button downs and flowy shirts have recently been spotted in stores like Madewell, which has a location in Ponce City Market.
Something we never thought to see outside of either farming or the '90s — overalls. Lately, they can be found in American Eagle or TJ Maxx and have been commonly paired with slouchy shirts or sweaters, or off-the-shoulder blouses paired with some kind of trendy sneaker such as the Adidas Superstars.
Made in the '60s, but made popular in the '90s, and now found thriving in the current day are Doc Martens. This trend had a comeback after YouTuber Emma Chamberlain made appearances on her channel and social media platforms wearing what we thought was an out-dated shoe brand. She paired the high-topped boots that retail at around $160 with straight, patterned pants or straight jeans and a crop top or graphic tee. Her very '90s-esque style has brought this vibe to young girls everywhere, including the Mill.
Platform Converse, Tevas, and Vans have been spotted roaming the halls on the feet of students. Platformed shoes such as wedges, 'school shoes', and sneakers were a hit in the '90s and were paired with almost any outfit. Today, they are being paired with blue or black ripped jeans.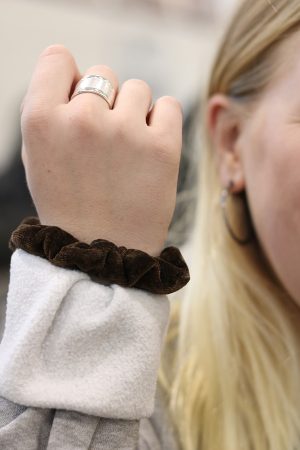 A '90s fashion statement that we now see as "hipster" vibe is the flannel under a denim or bomber jacket. Flannels have become an accessory to wear with any outfit: to pair with leggings and a t-shirt, over a graphic tee and jeans, or tied around the waist with jeans, leggings, or a dress. You could also wear a flannel as a button down with half of the shirt tucked in and the other half left hanging down.
With the mention of dresses, we'll add the reappearance of the white t-shirt under dresses or tank tops. We've also seen white tees or cropped shirts under blousy tops.
Another pant trend is the '90s style of cargo pants. Currently army green and camo cargo pants are what's hot and fresh on the market. These hit or miss bottoms can be found at Forever 21 and on FashionNova.com.
Looking around the hallways at the Mill, hoop earrings can't be missed. No matter how big or small, they can be paired with any outfit, whether it's a lazy day or a night on the town. Claire's located in the Avenue or Target on the north side of town both carry these stylish accessories.
Saving the best for last with a revived style you either love or hate — velvet. Whether it's a bodysuit, choker, scrunchie, or pair of shoes, you can't miss this fabric. Forever 21, Rue 21, Express, Nordstrom and more all offer varieties of this material.
Denim, velvet, and platforms will reign superior over modern trends and clothing lines. As the Mill approaches a new season, the ever-changing fashion world may continue to pull bits and pieces of iconic styles from previous eras.
Leave a Comment