Miss Starr's Mill sweet 16 showcase talents
Poole wins crown at first-ever pageant
"I was incredibly nervous throughout the entire crowning process," junior Caroline Poole said. "I felt shocked when my name was called because any of the other girls had the talent."
Poole received the 2016 Miss Starr's Mill crown on Jan. 9 from 2015 Miss Starr's Mill junior Yuri-Grace Ohashi. This is the first Miss Starr's Mill pageant since the retirement of former drama teacher David Spearman.  "Mr. Spearman has done so much to establish the pageant as a full production, and we hoped to continue that same tradition,"  German and dance teacher Antonela Kljajic said.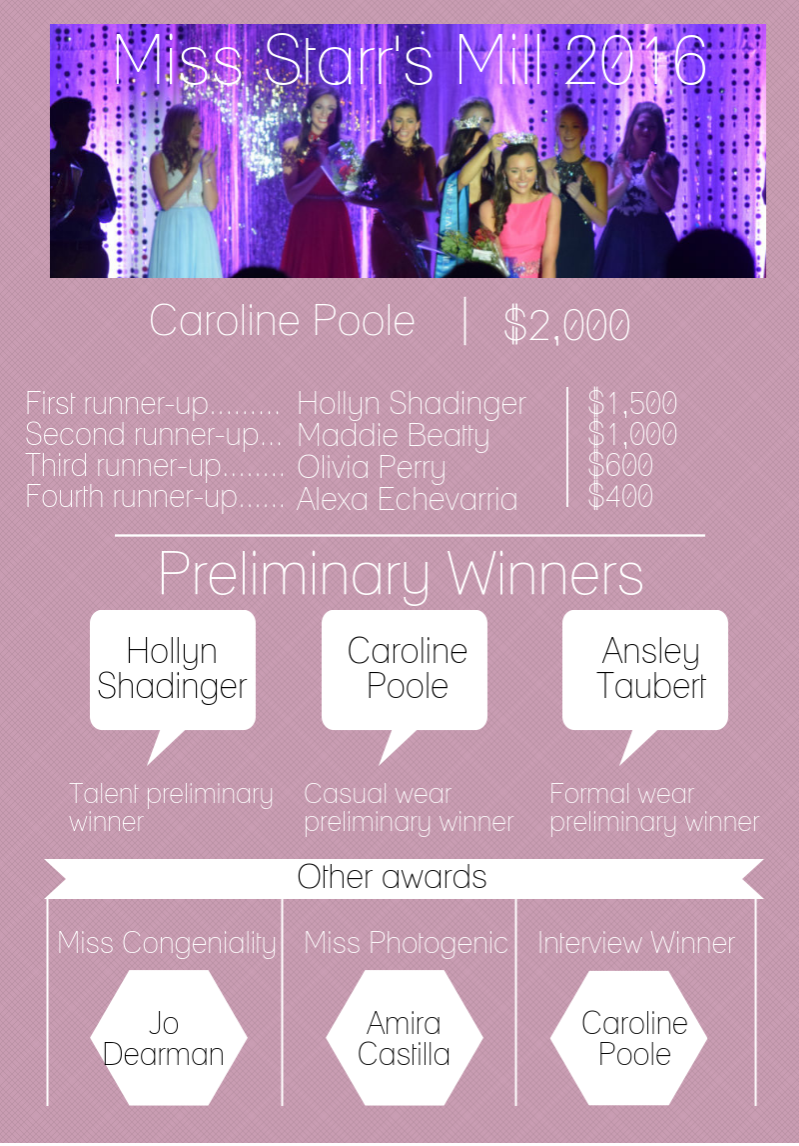 Math teacher Emily Willis took over the lead on organizing the pageant after Spearman. With the help of production and scholarship coordinator Zach Stutts and Kljajic, the two-day pageant featured 16 talented teenagers from the Mill. Kljajic choreographed the opening number and helped backstage. Stutts took the stage with Ohashi to narrate most of the pageant and assisted with scholarship distribution.
Poole was awarded with a $2,000 scholarship, sponsored by Dr. McPherson of Peachtree City Orthodontics, and an extra $500 scholarship for being the overall interview winner. The first runner-up senior Hollyn Shadinger received a $1,500 scholarship from Southern Credit Union. Second runner-up, senior Maddie Beatty, won a $1,000 scholarship from Dr. Burney of Digestive Healthcare of Georgia.
Stutts sponsored the scholarship money for third runner-up junior Olivia Perry for $600 and fourth runner-up senior Alexa Echevarria for $400. The remaining semi-finalists were sophomores Jo Dearman, Cara Clements and Olivia Crew.
Historically, an average of about 30 girls participated in the pageant, but this year about half that number competed for the crown. This allowed the pageant to be cut from three days with a semifinalist group of 10 to two days with a semifinalist group of eight. "The girls seemed to be able to bond more with a smaller group," Kljajic said. "They became each other's biggest supporters."
The top eight contestants are selected from the cumulative scores of the first day of the pageant and the interviews. The judges base their scores off an Olympic 1-10, with different categories having different weights. Of the total score, evening and casual wear are 15 percent each, talent counts is 40 percent and the interview is 30 percent.
"Making top eight was so awesome," Dearman said. "It was an honor to be chosen and I really loved to try everything again after self- critic."
Each year there is a separate award given to the most friendly contestant. Every girl participating votes for one of their fellow contestants that they feel was the most supportive and kind. This year's Miss Congeniality went to Dearman.
"It was awesome to win Miss Congeniality because it felt like the other girls really liked me and that meant more to me than anything," Dearman said.
In addition to the Miss Congeniality award, scholarships are given to the non-finalists with the best preliminary scores in the interview and talent category. The non-finalist interview winner also for $250 was freshman Ansley Taubert, and the non-finalist talent winner of $250 for her baton twirling was senior Hannah Aldinger.
Shadinger won the overall talent preliminary this year and the most promising talent award, a new scholarship of $500 from Georgia Academy of Dance and Performing Arts. "I'm truly honored to know people really believe in my musical abilities," Shadinger said. "And winning the talent prelims two years in a row has been really flattering."
The girls go through many steps and rehearsals to refine their talents before stepping on stage. First, girls who consider participating attend an informational meeting. Once a girl commits to competing, they go through several rehearsals to learn their places on the stage and the format of the pageant.  
"We had a blast during rehearsals and preparation backstage," Poole said. "I could not have chosen a more welcoming group for my first pageant."
This year's edition of the pageant included a surprise performance from two previous pageant winners. Ohashi and 2014 Miss Starr's Mill Abigail Feltner surprised the audience with a joint performance.
Feltner sang to Sia's rendition of "California Dreamin'" while Ohashi danced around the stage, circling Feltner. "It was emotional getting to see her again since she crowned me just last year," Ohashi said. "It was like a time capsule of all the memories from that and Miss Georgia [Outstanding Teen.]"
Some finalists of the pageant plan to continue competing. The Miss Capital City board has expressed interest in Beatty to compete if she stays in-state for college, but Shadinger has no current plans for further competitions because she wants to focus on her music.
Poole will go on to compete in Miss Georgia's Outstanding Teen as Miss Starr's Mill. "I loved every minute on stage and cannot wait to have another opportunity to perform," Poole said.